U.S. Abortion Rights Reaffirmed as Supreme Court Calls Texas Clinic Closings Illegal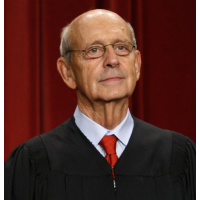 Justice Stephen Breyer
By Nina Martin, ProPublica
Back in January, 2016 looked to be a watershed year for reproductive rights — and a potentially harrowing one for advocates of abortion and access to contraception. The main reason: two blockbuster Supreme Court cases.
Now, as the Supreme Court ends its 2015–16 term, it's clear that the prognosticators were both right and wrong. This has been one of the most important years for reproductive rights in memory — but contrary to what many expected, it is the side defending abortion rights and contraception access that has won.
Monday's 5-3 ruling in Whole Woman's Health v. Hellerstedt, striking down strict regulations on Texas abortion clinics and requirements that abortion doctors have admitting privileges at local hospitals, is the court's most significant abortion ruling in more than 20 years and is likely to reverberate well beyond the state's borders. The decision means that so-called Targeted Regulation of Abortion Providers, or TRAP, laws in 23 states besides Texas, and admitting privileges laws in 11 states are "presumptively unconstitutional," said Nancy Northrup, president and CEO of the Center for Reproductive Rights.
Northrup called the ruling "a complete and total victory" that "renews the promise of Roe v. Wade for the next generation." Texas Lt. Gov. Dan Patrick, a Republican who strongly opposes abortion, called the ruling "a devastating blow" to efforts to protect women's health and safety.
In his majority opinion, Justice Stephen Breyer rejected arguments that Texas law H.B. 2 was needed to safeguard women, concluding that the state had "no significant health-related [abortion] problem for the new law to cure." More significantly, Breyer reiterated the principle that states may not unduly burden the ability of women to exercise their constitutional rights under Roe. "[N]either of these provisions offers medical benefits sufficient to justify the burdens upon access that each imposes," Breyer wrote.
Stephanie Toti, the attorney who led the challenge to the Texas law, called the ruling "sweeping" and "decisive" for how it clarifies and strengthens the two-decade-old undue burden standard (which ProPublica wrote about here). Breyer's reasoning "applies to all abortion restrictions across the board," she said, and will be used to challenge other types of abortion laws that have recently gained momentum.
In the past year, for example, state lawmakers have introduced a barrage of bills that would bar a common second-trimester abortion procedure, ban abortion after 20 weeks or for specific reasons (such as fetal anomaly or sex selection), increase waiting periods and raise new barriers for teenagers seeking to terminate a pregnancy, and target the funding of Planned Parenthood and other groups that perform or refer patients for abortion.
Cecile Richards, president of Planned Parenthood, which has been under attack since last summer over videos purporting to show an illicit trade in fetal body parts for research, said the Hellerstedt victory will energize abortion-rights group that have been on the defensive for the last six years. "We now will take this fight state by state to challenge and repeal other laws across the country," she vowed.
One thing that remains unclear, however, is how many of the 20 or so Texas abortion clinics that shut down since H.B. 2 was passed in 2013 will be able to reopen. "The rebuilding of that infrastructure is going to take some time," Amy Hagstrom Miller, founder and CEO of Whole Woman's Health, said on a media call. "We've had to let our leases go in the facilities. We've had to sell our buildings. We've had to sell the equipment. Our staff has been laid off. Our physicians have gotten new jobs."
The other important reproductive rights case of the Supreme Court term, Zubik v. Burwell, a religious challenge to the Affordable Care Act's contraception mandate, ended in a tie in May that ultimately has favored the repro-rights side. Instead of the expansive religious-liberty ruling many SCOTUS-watchers had predicted, the justices sent the case back to the lower courts to try to hammer out a compromise that would allow women to receive birth control as envisioned by the ACA without impinging on the rights of religiously affiliated institutions.
Zubik would probably have turned out differently but for the death of Antonin Scalia in February, which turned what had been a 5–4 conservative majority into an evenly divided court. That split has affected a number of controversial cases, although not, it seems, Hellerstedt — Justice Anthony Kennedy, who had been seen as the swing vote, sided with the court's four liberals without comment.
Scalia's death set up an epic political battle over the direction of the Supreme Court for the next generation and made the court a key issue in the 2016 presidential race—points hammered home today by groups on both sides of Texas case. Marjorie Dannenfelser, president of the anti-abortion Susan B. Anthony List, called the Hellerstedt ruling "tragic," adding: "The stakes for the 2016 election could not be higher. … Only with a pro-life Congress and White House can we begin to address the havoc wrought by the Supreme Court on America's unborn children and their mothers."
Ilyse Hogue, president of NARAL Pro-Choice America, doesn't agree with Dannenfelser on much, but on this point they concurred: When it comes to reproductive rights, Hogue said, the match-up between Hillary Clinton and Donald Trump promises to be "the most important election of our lifetime."
To Learn More:
In Texas Decision, Supreme Court Delivers Sweeping Win for Abortion Rights (by Nina Martin, ProPublica)
Whole Woman's Health et al. v. Hellerstedt, et al. (Supreme Court of the United States) (pdf)
Texas Planned Parenthood Closings Led to Fewer Women Obtaining Contraceptives (by Paul J. Weber, Associated Press)
Texas Investigators Ordered Planned Parenthood to Surrender Private Patient and Employee Records (by Steve Straehley, AllGov)
Federal Court Approves Texas Law Requiring Abortion Providers to Have Hospital Privileges (by Noel Brinkerhoff, AllGov)
Family Planning Budget Cuts in Texas Lead to Increase in Poor Women having Babies (by Noel Brinkerhoff, AllGov)