Texas Planned Parenthood Closings Led to Fewer Women Obtaining Contraceptives
Thursday, February 04, 2016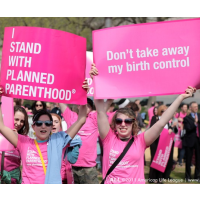 (photo: American Life League)
By Paul J. Weber, Associated Press
AUSTIN, Texas (AP) — A study found that Texas saw a drop in women obtaining long-acting birth control after Republican leaders booted Planned Parenthood from a state women's health program in 2013, which researchers said may explain an increase in births among poor families.
The research examined the effects of Texas severing taxpayer ties with the largest abortion provider in the U.S. The same year Texas barred Planned Parenthood from state family planning services, then-Gov. Rick Perry signed abortion restrictions that shuttered clinics under a sweeping law that the U.S. Supreme Court will review next month.
No explicit connection is made in the study between the exclusion of Planned Parenthood clinics and fewer women obtaining long-lasting forms of contraception. More women could have chosen to get pregnant or obtained birth control outside publicly funded programs. But researchers said their finding suggest a likely policy link.
A top Texas Republican lawmaker, state Sen. Jane Nelson, called the study misleading and said it didn't take into account all state programs for women. The state health commission said the number of clinics providing women's health services had doubled.
Researchers, though, said Texas hasn't filled the void left by Planned Parenthood.
"Whatever good efforts are being made, they weren't enough to offset the impact of suddenly removing Planned Parenthood," said Joseph Potter, a researcher at the University of Texas at Austin and one of the study authors.
The study, released Wednesday by the New England Journal of Medicine, was funded in part by the Susan T. Buffett Foundation, a major supporter of Planned Parenthood and other abortion-rights groups. Potter said the foundation had no hand in the research and had not seen the study.
Researchers looked at the number of women who obtained birth control through state-funded family planning services in the two years before and after Planned Parenthood was removed from the Texas program. They found that claims for long-acting methods of birth control — which included contraceptive implants, intrauterine devices and contraceptive shots — dropped by roughly one-third.
No significant change was noted in women obtaining short-acting methods, such as birth control pills and contraceptive rings, which were the vast majority of claims.
Childbirths covered by Medicaid also increased among women who used contraceptive shots and lived in counties with Planned Parenthood affiliates, according to the study. There were 566 such births among such women within 18 months of receiving a shot after Planned Parenthood was excluded, compared to 529 before.
Texas lost all federal funding for its women's health program following the exclusion of Planned Parenthood, which is a qualified provider under federal law. The new Texas Women's Health Program is entirely state-funded and bars clinics affiliated with abortion providers.
Bryan Black, a spokesman for the Texas Health and Human Services Commission, said the number of clinics offering women's health programs had doubled since 2014. Two of the five named authors on the report work at the state health agency.
"The truth is, funding for women's health is at an all-time high for Texas. We've substantially grown our provider network," Nelson said.
For the study, researchers examined pharmacy and medical claims from state family planning services from 2011 to 2014. To be eligible for the Texas Women's Health Program, women must be 18-44 years old and have a household income at or below 185 percent of the federal poverty level.
Texas Republicans, like conservatives in Congress and other GOP-controlled states, have long opposed Planned Parenthood. Their anger toward the organization flared again last year after anti-abortion activists released undercover video of Planned Parenthood officials discussing the transfer of fetal tissue.
State leaders swiftly launched investigations into Planned Parenthood and Congress unsuccessfully tried stripping federal funding. None of the investigations turned up wrongdoing by Planned Parenthood, and a Republican prosecutor in Houston last month announced that a grand jury had indicted the activists behind the videos.
One of the activists, Sandra Merritt of California, turned herself in Wednesday to Texas authorities. She and David Daleiden are charged with presenting fake government IDs to a Planned Parenthood clinic while pretending to be from a medical research company.
To Learn More:
Texas Investigators Ordered Planned Parenthood to Surrender Private Patient and Employee Records (by Steve Straehley, AllGov)
Federal Court Approves Texas Law Requiring Abortion Providers to Have Hospital Privileges (by Noel Brinkerhoff, AllGov)
Family Planning Budget Cuts in Texas Lead to Increase in Poor Women having Babies (by Noel Brinkerhoff, AllGov)