Under Secretary of State for Arms Control, Verification and Compliance: Who Is Andrea Thompson?
Tuesday, December 26, 2017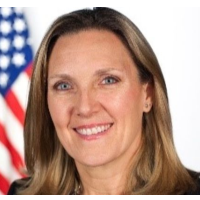 Andrea Thompson
President Donald Trump has nominated a retired military officer to fill a top job at the State Department. Andrea L. Thompson, who has worked for the Trump administration since January 2017, had a long career in military intelligence. If confirmed by the Senate, Thompson will lead the Bureau of Arms Control, Verification and Compliance. She will succeed Rose Gottemoeller, who served from 2014 to 2016 and was later appointed to NATO.
The daughter of Georgia and Phil Hanson, Andrea Lee Thornton was born March 1, 1966, in Harrisburg, South Dakota, where she delivered newspapers as a teen. Thompson graduated Harrisburg High School in 1984. She earned a BA in Journalism and Spanish at the University of South Dakota in 1988, and an MS in Counseling and Organizational Behavior at Long Island University. In 2009, she added an M.A. in National Security and Strategic Studies at the Defense Department's National Defense University.
Thompson joined the Army in 1988, serving for 28 years and retiring on October 31, 2016, with the rank of colonel. During her two tours in Iraq, she served as the military intelligence taskforce commander in the 25th Infantry Division until March 2004 and as the senior intelligence officer of the 101st Airborne Division beginning in April 2005. She also served in Germany, Honduras, Nicaragua, Belize, and Bosnia.
She served as special assistant to Army Chief of Staff George W. Casey Jr. from June 2007 to August 2008. That same year, she co-authored (with Dominic J. Caraccilo) the book Achieving Victory in Iraq: Countering an Insurgency, which argued that the U.S. war in Iraq could be won through better training of Iraqi military and police forces and turning over the fighting to the Iraqis themselves.
From July 2009 to June 2010, Thompson was the chief of staff (intelligence) for the U.S.-led forces in Kabul, Afghanistan. There, she served under disgraced Lt. Gen. Michael T. Flynn, who recently pleaded guilty to lying to the FBI—a felony—for covering up conversations he had with Russian Ambassador Sergey Kislyak. Attesting to their closeness, Flynn played a major role in Thompson's August 2016 retirement ceremony.
After her stint in Afghanistan, Thompson enjoyed several consecutive stateside assignments. She served as brigade commander of the 902nd Military Intelligence Group in Fort Meade, Maryland, from July 2010 to July 2012 and as senior fellow for the Army Chief of Staff, Strategic Studies Group, from July 2012 to March 2013.
Thompson went to work for Congress in March 2013, as senior military advisor at the House Foreign Affairs Committee through April 2014, when she became executive officer for Under Secretary of the Army Brad Carson from April 2014 to July 2015. She then returned to Congress, serving as national security advisor for the House Committee on Homeland Security from April 2015 to August 2016, when she retired.
Upon retirement, Thompson became director at the McChrystal Group Leadership Institute in Alexandria, Virginia, which is owned by retired Gen. Stanley McChrystal, under whom she served in Afghanistan. She left in January 2017, when she was named national security advisor to Vice President Mike Pence, later taking a job as a special advisor in the Office of Policy Planning at the State Department.
Andrea L. Thompson is married to Wilbert H. Frazier.
-Matt Bewig
To Learn More:
Trump to Nominate S.D. Native for International Security Secretary Post (by Dana Ferguson, Sioux Falls Argus Leader)
South Dakota Native Tapped to be Vice President's National Security Advisor (by Michael Geheren, Keloland)