Trump at 100 Days: What the Polls Say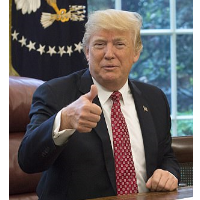 President Donald Trump (photo: Getty Images)
100 Days into his presidency as of April 29, Donald Trump is more unpopular than any of his recent predecessors. Having lost support during his transition "honeymoon"—the only president ever to do so—Trump has continued to shed popularity. Several polls released in the last week agree that public dissatisfaction with Trump is more typical of a presidency in serious trouble than one just starting out:
- Gallup's presidential approval tracking poll shows that 55% of Americans disapprove of Trump's job performance, while only 40% approve.
- According to a Wall Street Journal/NBC News poll, Americans disapprove of Trump's performance by 54% to 40%.
- A Washington Post/ABC News poll shows Trump underwater with Americans, 53% to 42%.
- A Quinnipiac survey finds Trump's job approval rating at 40%, with 56% disapproval.
- A Reuters/Ipsos poll says Trump's approval is at 43% percent, against 52% disapproval.
- A Marist survey reveals a split of 39% approval versus 49% disapproval.
- Finally, according to the aggregate polling at 538.com, which attempts to create an informed "average" of all presidential approval polls, Trump is at 52.3% disapproval and 42.1% disapproval.
As seen in the chart below, comparing Trump with his predecessors reveals the unprecedented failure of Trump's early presidency.
In the 72 years since Harry Truman became President and Gallup began asking about presidential approval, Donald Trump is the only President to end his first 100 days with a majority of Americans panning his job performance, and the only one whose approval rating is lower than his popular vote share. In other words, while every other president has used his first 100 days to increase his job approval rating, Trump is the only one who has lost support early.
Perhaps even more troubling for Trump than these topline numbers are the negative attitudes and beliefs about Trump that are beginning to form among the electorate. If these harden into accepted truths about Trump, they would pose a huge obstacle to his prospects for future success.
-According to the NBC/WSJ poll, the public has soured on several aspects of Trump's leadership that it once approved. Only 50% say Trump is firm and decisive in his decision making - down from 57% in February; 39% say he is changing business as usual in Washington - down from 45%; 39% say he is effective and getting things done - down from 46%.
- According to Gallup, the share of Americans who agree that Trump "keeps his promises" fell from 62% in February to just 45% in April.
- The Quinnipiac poll finds that 58% of Americans say that Trump is not honest; 55% say he does not have good leadership skills; 57% say he does not care about average Americans; and 63% say he is not level-headed.
Trump's numbers at 100 Days—usually one of the high points of a president's popularity—are closer to those of a failing president than a newly minted one. Hovering around 40%, his approval is comparable to George W. Bush's right after Hurricane Katrina, Gerald Ford's during the 1975 recession, Jimmy Carter's during the Iran hostage crisis, and George H.W. Bush's during the 1992 recession. Those presidents were so weakened by low public support that they failed to win re-election, except George W. Bush who could not run due to term limits.
It has been nearly six months since Donald Trump was elected, and he is the only president whose post-election popularity has declined so quickly. He has failed to deliver on any of the ten legislative proposals he promised to pass during his first 100 days. Trump's spectacular failure to rally his own party behind his health care proposal revealed his administration's weakness. If Trump cannot revive his popularity, he is sure to have even more difficulty passing tax reform and other high priority legislation later this year, the success of which may well determine his prospects for reelection.
- Matt Bewig
To Learn More:
For Donald Trump, the Honeymoon was Over Before It Even Began (by Matt Bewig, AllGov)
Trump's Job Approval in First Quarter Lowest by 14 Points (by Jeffrey M. Jones, Gallup)
The American Presidency Project – Presidential Popularity (University of California-Santa Barbara)
Polls: Trump's Historically Bad Approval Ratings Persist, But His Voters Have No Regrets (by Chas Danner, New York Magazine)
[Chart data from the American Presidency Project]