For Donald Trump, the Honeymoon was Over Before It Even Began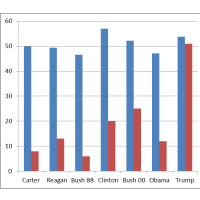 Blue: % of popular vote against president-elect. Red: Disapproval at Inauguration.
On the eve of his inauguration, Donald Trump faces the prospect of attempting to radically alter US policy despite an unprecedented lack of public support. Regardless of whether polls gauge Trump's support in terms of "personal favorability" or "job approval," Trump's popularity is markedly worse than any of his recent predecessors.
Five polls released in the last week all agree that Trump has skipped his "presidential honeymoon" with the public and proceeded straight to a level of dissatisfaction more typical of a presidency in serious trouble.
- Gallup released two polls, one measuring Trump's "favorability" and the other public approval of his presidential transition. The first showed that 55% of Americans view Trump unfavorably, while only 40% view him favorably. The second found that 51% of Americans disapprove of how Trump has handled the transition, versus 44% who approve.
- Similarly, the Washington Post/ABC News favorability and transition approval polls both showed Trump underwater with Americans, 54% to 40%.
- CNN released a transition approval poll (pdf) finding that 52% disapprove of Trump's transition and 40% approve. Only 37% said that Trump's conduct during the transition increased their confidence in his ability to serve as president.
- Quinnipiac University released a poll showing that Americans disapprove of Trump's transition by a margin of 51% to 37%, and found identical numbers for Trump's favorability. By a margin of 49% to 45%, Americans believe Trump will take the country in the wrong direction.
As bad as all that sounds, deeper comparisons with his predecessors reveal just how much worse Trump's relationship with the public is. The accompanying chart comparing public disapproval of previous president-elects during their transitions demonstrates the unprecedented failure of Trump's transition efforts.
In the 72 years since Harry Truman became President and Gallup began asking about presidential approval, Donald Trump is the only President to start his term with a majority of Americans disapproving of his job performance, and one of only two (Bush '88 being the other) with an approval rating lower than his popular vote share.
In fact, Trump's inaugural job disapproval numbers are nearly off the charts, more than twice as bad as those faced by George W. Bush, who also took office despite getting fewer votes than his Democratic rival, Al Gore, and four times worse than Obama's at his first inauguration.
Trump's numbers at his inauguration—usually one of the high points of a president's popularity—are closer to those of a failing president than a newly minted one. Hovering around 40%, his approval rating is comparable to George W. Bush's right after Hurricane Katrina, Gerald Ford's during the 1975 recession, Jimmy Carter's during the Iran hostage crisis, and George H.W. Bush's during the 1992 recession.
All of those presidents were politically weakened by their lack of public support, and all failed to win re-election, except George W. Bush, who did not run due to term limits. Whether Donald Trump can avoid their fate and succeed without the broad public support past presidents have relied upon in advancing their agendas will determine the success or failure of his presidency.
-Matt Bewig
Trump's Pre-Inauguration Favorables Remain Historically Low (by Justin McCarthy, Gallup)
Approval of Trump Transition Still Low as Inauguration Nears (by Lydia Saad, Gallup)
Trump's Transition Garners Lower Approval than Past Presidents (Washington Post)
CNN ORC International Poll (CNN) (pdf)
U.S. Voters Approve Of Obama, Disapprove Of Trump, Quinnipiac University National Poll Find (by Quinnipiac University)
The American Presidency Project – Presidential Popularity (University of California-Santa Barbara)
Obama Honeymoon Continues; 7 Months Is Recent Average (by Jeffrey M. Jones)