Top Defense Contractors have Paid more than $7 Billion in Misconduct Penalties Since 1995
Thursday, December 24, 2015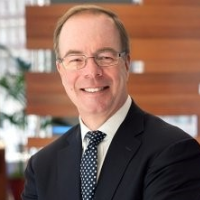 McKesson CEO John Hammergren (photo: LinkedIn)
Large corporations can get into trouble for bad behavior and still do lucrative business with the Department of Defense.
The watchdog Project On Government Oversight (POGO) has compiled a list of the top 10 defense contractors that includes not only what they've earned from the Pentagon but also how much they've paid in penalties for misconduct. Collectively, the companies on the list have forked over $7.3 billion in penalties since 1995.
McKesson, which made $6.2 billion providing healthcare services and information technology to put it sixth on the list, paid the most in penalties: $2.05 billion for 24 instances of misconduct. Its biggest single penalty was in 2005, when it paid $960 million to members of a class action suit in connection with accounting improprieties in a company acquired by McKesson. More recently, it paid $150 million earlier this year because of reporting problems for controlled substances. The company has been led since 2001 by CEO John Hammergren and the value of company's shares have gone up several-hundred-fold since then.
The next highest penalty total was paid by Boeing, $1.5 billion for 64 instances of misconduct. The aircraft and technology company made $20 billion on its defense deals.
Lockheed Martin, the biggest contractor, had the highest number with 79 instances and paid $751 million in penalties.
Others on the list were:
No. 3 General Dynamics ($15.4 billion in contracts, 16 instances, $279 million in penalties);
No. 4 Raytheon ($12.6 billion in contracts, 26 instances, $489 million in penalties);
No. 5 Northrop Grumman ($10.3 billion in contracts, 40 instances, $862 million in penalties);
No. 7 United Technologies ($6 billion in contracts, 21 instances, $745 million in penalties);
No. 8 L-3 Communications ($5.8 billion in contracts, 15 instances, $45.2 million in penalties);
No. 9 BAE Systems ($5 billion in contracts, 21 instances, $592 million in penalties);
No. 10 Huntington Ingalls Industries ($4.7 billion in contracts, 1 instance, $0 in penalties).
-Noel Brinkerhoff, Steve Straehley
To Learn More:
Federal Contractor Misconduct Database (Project On Government Oversight)
Many Top Federal Contractors Have Human Rights Violations (by Neil Gordon, Project On Government Oversight)
BP and Drug Manufacturers Dominate Federal Misconduct Penalties List (by Steve Straehley, AllGov)
Big 5 Defense Contractors Not Hurt by Their Multiple Cases of Misconduct (by Noel Brinkerhoff, AllGov)