Too Many Rich Foreigners are Scamming the System that Allows them to Live in U.S. if they Create 10 Jobs and Pay $500,000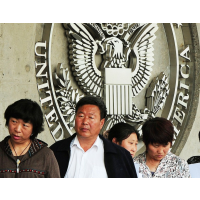 Chinese citizens with visa applications at U.S. embassy in Beijing (photo: Getty Images/AFP)
The U.S. government's effort to attract foreign investment by giving visas to wealthy individuals has produced numerous cases of possible fraud, resulting in dozens of investigations by federal agencies.
Under the EB-5 immigration program operated by the Department of Homeland Security (DHS), a rich foreigner can receive an entry visa into the U.S. if they invest $500,000 or $1 million in an American business venture. If their investment creates 10 or more American jobs after two years, the foreign investor qualifies for a green card.
The program has proven to be very popular. For instance, DHS allotted 10,000 visas in 2014 for EB-5 applicants, and all of them were gone in just a matter of a few months. Residents of China have flooded the department with applications for EB-5, and accounted for 90% of the visas issued from it in 2014, according to government data compiled by CNNMoney.
"For rich Chinese, a green card is a ticket out of China -- a way to escape heavy pollution or gain access to improved education options," wrote CNN's Sophia Yan. "The broad anti-corruption campaign that President Xi Jinping has waged has also rattled wealthy Chinese."
Although the program brings financial investment into the U.S. economy, "some say [it] is a relatively cheap way for the global elite to buy citizenship," pointed out Yan. "Others say the scheme has too much red tape, and believe the program is mismanaged to the point of fraud."
Indeed, EB-5 has proven popular with scammers and possibly even spies who have used the program to gain entry into the country. The Securities and Exchange Commission reportedly received more than 100 "tips, complaints and referrals of possible securities fraud" connected to the EB-5 program from 2013 to 2015, according to a new report (pdf) released by the Government Accountability Office. Nearly 60 investigations by various agencies are now pending into alleged EB-5 scams.
-Noel Brinkerhoff
To Learn More:
Immigrant Investor Program: Additional Actions Needed to Better Assess Fraud Risks and Report Economic Benefits (Government Accountability Office) (pdf)
Dozens of Fraud Investigations Target US Immigration Program for Rich Foreigners (by Matthew Mosk, ABC News)
U.S. Runs Out of Investor Visas Again as Chinese Flood Program (by Sophia Yan, CNNMoney)
Inspector General Report Accuses Homeland Security Official of "Unprecedented" Visa Intervention on Behalf of Harry Reid, Virginia's Current Governor and Others (by Noel Brinkerhoff and Steve Straehley, AllGov)
U.S. Visas For Sale for $500,000 (by Noel Brinkerhoff and Steve Straehley, AllGov)