South Dakota Drops Study of Early U.S. History as a High School Requirement
Saturday, August 29, 2015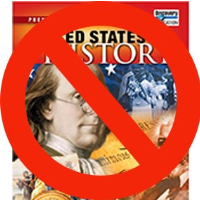 (photo illustration: Steve Straehley, AllGov)
Students in South Dakota will now graduate from high school without studying early American history, under new teaching guidelines adopted by the state.
After a year of deliberations, the state Board of Education adopted new curriculum standards that no longer require instructors to teach the first 100 years of U.S. history. Such milestone events and developments as the Revolutionary War and the drafting of the U.S. Constitution could be completely ignored.
Cutting out early U.S. history in 11th grade hurts the ability of students to "think historically" when they reach higher education, according to a letter sent to the state Board of Education by Ben Jones, dean of arts and sciences for Dakota State University and educators from the University of South Dakota, South Dakota State University, Northern State University, Augustana College, Presentation College, the University of Sioux Falls, Black Hills State University and other institutions.
"By that, we mean they are unfamiliar with the use of sources, the identification of bias, analysis of information, understanding context and the development and practice of research that aid them both inside and outside the discipline of history," according to the letter.
That, of course, might be exactly what the Republican-dominated state government has in mind. "It's disabling their citizenship," Jones told the Argus Leader.
- Steve Straehley, Noel Brinkerhoff
To Learn More:
History Standards Approved for K-12, Despite Concerns (by Patrick Anderson, Argus Leader)
Early American History Could be a Thing of the Past (by Tess Hedrick, KSFY)
Koch Brothers Group Boasts Total Control of Iowa and South Dakota Legislatures (by Noel Brinkerhoff, AllGov)