Small New Jersey Town Sues DuPont for $1.1 Billion over Alleged 100-Million-Pound Toxic Waste Dumping
Wednesday, December 21, 2016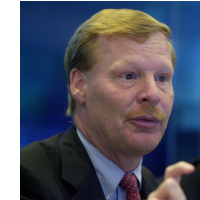 DuPont CEO Edward Breen (photo: Bloomberg via Getty Images)
By Nick Rummell, Courthouse News Service
CAMDEN, N.J. (CN) – A small town in New Jersey has sued DuPont for $1.1 billion, claiming it dumped more than 100 million lbs. of toxic waste into soil and water near the Delaware River, "a disaster worse than Exxon Valdez" that will take 1,000 years to clean up.
Carneys Point Township is a town of about 8,000 near the eastern end of the Delaware Memorial Bridge. Its Dec. 12 lawsuit in Salem County Superior Court involves the cleanup of the Chambers Work Site, where Teflon was invented in 1938.
The site has been linked to cancer clusters in the area, which includes Carneys Point.
DuPont began operating at the site in 1892 as a gunpowder mill, then transformed it onto a 1,400-acre chemical manufacturing complex that used hazardous substances including mercury, benzene and ethyl chloride.
Thousands of New Jersey residents have sued DuPont for contaminating their drinking water at the site. One such case was settled in 1993 for almost $40 million. DuPont did not admit liability.
DuPont settled related two class-actions in 2011 that reportedly boiled down to paying $800 per household or an in-home water filtration system.
Several remediation attempts, including one involving the Department of Energy in 1996, have been undertaken at the site. The New Jersey Department of Environmental Protection has determined it will take 999 years to return groundwater in the area to potable use.
"The Chambers Work Site is a disaster worse than the Exxon Valdez, which spilled 88 million pounds of crude oil in Alaska resulting in over $1 billion in civil and criminal penalties," the township says in its lawsuit.
In addition to E.I. DuPont De Nemours, the town sued Sheryl Telford, director of DuPont's Corporate Remediation Group during the relevant period.
The town asks the court to calculate the penalties due under the Industrial Site Recovery Act — tens of thousands of dollars per day multiplied by years, and compel DuPont to establish a remediation trust as required by law.
It says the remediation trust should be $1.126 billion.
DuPont transferred the Chambers Works Site deed, and its performance chemicals division, to a spinoff company called Chemours in July 2015. The transfer dumped $4 billion of DuPont's debt and most of its environmental liabilities to Chemours, according to the lawsuit.
Carneys Point calls the spinoff an attempt to duck liability and make DuPont more attractive to Dow Chemical, which agreed to merge with DuPont in 2015.
"In order to finalize its merger with Dow, DuPont needed to shed 100 years of accumulated environmental liability to become a more attractive merger partner," the complaint states.
If the proposed $130 billion DuPont-Dow merger is completed, Carneys Point says, Chemours will likely go bankrupt, leaving the Chambers Work Site an abandoned, toxic orphan.
"Chambers Works would be left as a rusting industrial nightmare that the residents of New Jersey will be left to clean up without the funds to do so," the town says.
Dow and DuPont shareholders approved the merger in July. The merger is expected to be approved early in 2017.
Carneys Point says the merger triggers the New Jersey Industrial Site Recovery Act (ISRA), which requires chemical companies to clean up hazardous waste before transferring property or stock of a contaminating industrial business or entering into a merger agreement.
It claims the director of DuPont's remediation group never told New Jersey regulators in a 2015 letter after the spinoff that the company had transferred the real estate deed, which would have triggered the ISRA.
By omitting that information, DuPont hoped to "saddle the cost of cleaning up the site on the state of New Jersey and residents of Carneys Point in order for DuPont to save expenses and reap profits," the town says.
DuPont spokesman Dan Turner declined to comment on the lawsuit.
The township is represented by Albert Telsey, with Meyner and Landis, of Newark.
To Learn More:
DuPont Found Liable for Woman's Kidney Cancer (by Steve Straehley, AllGov)
U.S. and Kansas Sue DuPont for Poisoning Water and Soil (by Noel Brinkerhoff, AllGov)
DuPont Sued for Covering up 25 Years of Polluting Ohio River (by Noel Brinkerhoff, AllGov)