Secretary of the Navy: Who Is Philip Bilden?
Thursday, February 23, 2017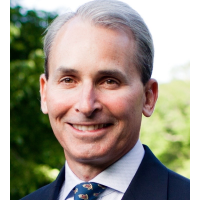 Philip Bilden
Philip Bilden, who is an Army Reserve veteran but has worked as an investor in Hong Kong for most of his career, was nominated on January 25, 2017, to be Secretary of the Navy.
Bilden did grow up in a Navy family; his father was a naval officer, as were many of his relatives over four generations. Bilden ended up in Zionsville, Indiana, for his last years in high school, graduating in 1982. He went on to Georgetown University, where he earned a bachelor's degree in foreign service in 1986. He was a member of Reserve Officers' Training Corps at Georgetown, so was commissioned a second lieutenant upon graduation. He served ten years as an intelligence officer, including a stint at the Defense Intelligence Agency, in the Army Reserve.
Bilden returned to school, this time to Harvard, and earned an MBA in 1991. He went to work in Boston for the equity firm HarbourVest Partners, then known as Hancock Venture Partners, and in 1996 became a co-founder of the company in a management buyout. Bilden then left for Hong Kong to manage the company's Asian business. The move also forced him to leave the Army Reserve, where he had reached the rank of captain.
Bilden remained in Hong Kong for 20 years, becoming a major player in bringing private equity investment to Asia. He opened HarboutVest offices in Tokyo in 2010 and Beijing in 2012. In 2011, he changed from being managing director to senior advisor.
From 2011 to 2012, he was the inaugural chairman of the Asia Advisory Council for the Emerging Markets Private Equity Association. He retired from HarbourVest in 2016 and returned to the United States, settling in Newport, Rhode Island. There, he sat on the board of the Naval Academy Foundation and the Naval War College Foundation, where he was the inaugural chairman of the Center for Cyber Conflict Studies Task Force. He is also on the Board of Visitors of Georgetown University's School of Foreign Service, the Asia Pacific Advisory Board of Harvard Business School, the Cyber & Tech Council of Business Executives for National Security and the Contrast Capital Global Advisory Board.
Bilden met his wife, Patricia, a dermatologist, while they were both students at Georgetown. They have a daughter and two sons, one of whom is a graduate of the U.S. Naval Academy, while the other is a midshipman there.
Bilden's nomination came as somewhat of a surprise. Former Virginia Congressman Randy Forbes (R), who was an adviser to Donald Trump during the presidential campaign and was an advocate for the larger Navy that Trump had promised, was seen as the likely candidate for the job.
-David Wallechinsky
To Learn More:
Trump Taps Army Officer-Turned-Businessman for Navy Secretary (by Hope Hodge Seck, Military.com)
Trump Looking to Appoint Investment Executive to Lead U.S. Navy (by Josh Rogin, Washington Post)
Navy Secretary Pick Is a Zionsville Grad (by Elizabeth Pearl, Lebanon Reporter)
Official Biography (Contrast Capital Management)