Secretary of the Interior: Who Is Ryan Zinke?
Wednesday, February 01, 2017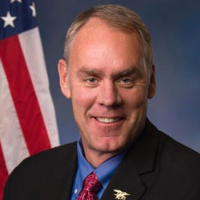 Ryan Zinke
During his political career, Ryan Zinke's position on climate change has moved from supporting legislation to slow the effects of the phenomenon to doubting that mankind has caused global warming. Now, Zinke, a Montana congressman who was confirmed by a 68 to 31 U.S. Senate vote on March 1, 2017, to be secretary of the Department of the Interior, will be leading one of the departments most tied to climate change. At his confirmation hearing before the Senate Committee on Energy and Natural Resources, he supported coal mining on federal lands, but also opposed the sale or transfer of federal lands.
Zinke was born in Bozeman, Montana, on November 1, 1961, to Ray, a plumber, and Jean Zinke. Zinke played football at Whitefish High School, and after he graduated in 1980 he went on to play center at the University of Oregon. He graduated from there in 1984 with a B.S. in geology. He later earned an MBA from National University in 1991 and an M.S. in global leadership from the University of San Diego in 2003.
Zinke wanted to be a deep-sea diver and was persuaded to join the Navy in 1986. He went into the SEALs, the Navy's commando unit. He rose quickly through the ranks, but in the mid-1990s took a trip to Montana on the taxpayers' dime that Zinke claimed was to scout training sites for the SEALs. The Navy thought otherwise—some reports had Zinke using the trip to work on family property—and he was forced to repay the government $211 for his airfare.
Zinke served on the famous (and infamous) SEAL Team Six from 1990 to 1993 and from 1996 to 1999 as a team leader, ground force commander, task force commander and current operations officer, in Bosnia-Herzegovina, Croatia and Kosovo. He also served in Iraq and in 2004 was made deputy and acting commander of Combined Joint Special Operations Task Force Arabian Peninsula. Zinke was never made a commander of a unit, however, and contemporaries pointed to the Montana "scouting" trip as the reason. Zinke denied this and retired in 2008 with the rank of commander.
Zinke returned to Montana and won a seat in the state senate, where he was seen as a moderate Republican. In 2010, he was among more than 1,000 state legislators to sign a letter to President Brack Obama and Congress calling for "comprehensive clean energy jobs and climate change legislation."
In 2012, Zinke ran for lieutenant governor in the Montana Republican primary, but his ticket finished fifth out of seven entrants. That year, he also founded a Super PAC, Special Operations for America. It paid for anti-Obama advertising that year, but spent far more on "fundraising consulting" fees paid to Continental Divide International, which was owned by Zinke, according to the Center for Responsive Politics. According to Zinke's 2014 financial report, he resigned from Special Operations for America in 2013, after which it began funding his congressional campaign. However, the following year's report showed that he was still chairman of the organization in 2014. Super PACs are not supposed to have any connection with the candidates they support.
As part of the 2014 campaign, Zinke sent out fundraising emails with the header "Who killed Osama bin Laden?" In the emails, he wrote "I spent 23 years as a Navy SEAL and served as a Team Leader on SEAL Team Six — the team responsible for the mission to get Osama bin Laden." What he didn't mention in the emails was that he'd been out of the Navy for three years when the mission against bin Laden was carried out. During that campaign, Zinke also made a statement saying that while humans have some role in climate change, "the evidence is equally as strong that there are other factors, such as rising ocean temperatures, that have a greater influence."
Zinke won election to Congress and took seats on the House Armed Services and Natural Resources committees. He was dogged by another controversy when he ran for reelection in 2016. This time, it was a question of whether he actually lived in Montana.
Zinke claimed that he lived at his parents' old home there. But corporate records show the house belonging to Zinke's corporation. The house was approved by the city of Whitefish for use as a bed and breakfast, called the Snowfrog Inn, and even has its own webpage. Meanwhile, Zinke appeared to spend much of his time in Santa Barbara, California, home of his wife, Lola. He's even had fundraisers for other politicians advertised as being held at his Santa Barbara home. He also listed a Santa Barbara address in a Securities and Exchange Commission filing he made for another corporation he owns in 2013. He received twice as many campaign contributions from California in 2016 as he did from Montana. Nevertheless, Zinke won reelection just before being nominated by Donald Trump to lead the Interior Department.
Zinke and his wife, the former Lolita Hand, have two adult sons, Wolfgang and Konrad, and a daughter, Jennifer, who is a U.S. Navy diver.
-Steve Straehley
To Learn More:
Ryan Zinke Statement for Senate Committee on Energy and Natural Resources
Zinke's Nomination Could Bring Questions About Super PAC Ties (by Soo Rin Kim, Center for Responsive Politics)
Trump Taps Montana Congressman Ryan Zinke as Interior Secretary (by Juliet Eilperin, Washington Post)
Zinke Decries Attacks on his Montana Residency (by Jayme Fraser and Holly Michels, The Missoulian)
Does Congressman Zinke Even Live in Montana or is He California Dreamin'? (by Don Pogreba, Intelligent Discontent)
Does Being a Veteran Help Candidates? A Montana Politician Hopes So (by Alan Zarembo, Los Angeles Times)
U.S. House Candidate Profile: Ryan Zinke (by Charles S. Johnson, Ravalli Republic)
His Former Commander Exposes Ryan Zinke's Navy SEAL Career and Defective "Moral Make-Up" (by Don Pogreba, Intelligent Discontent)