Secretary of Homeland Security: Who Is Kirstjen Nielsen?
Sunday, November 05, 2017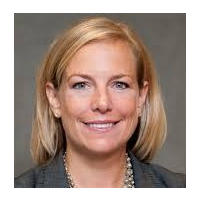 Kirstjen Nielsen
Kirstjen Nielsen, who worked for the Department of Homeland Security (DHS) in its infancy and later served as chief of staff for Secretary John Kelly, was nominated October 12, 2017, to lead the department, filling the vacancy left when Kelly moved to the White House.
Nielsen was born May 14, 1972, and is from Clearwater, Florida. She attended St. Paul's school in Clearwater, and then Berkeley Prep in nearby Tampa, where she played soccer and was president of the student government. After graduating in 1990, Nielsen went to Georgetown University, where she earned a B.S. in foreign service in 1994. She also spent a year studying at Nanzan University in Japan.
After graduation from Georgetown, Nielsen worked as a legislative correspondent for Sen. Connie Mack III (R-Florida) until 1997. She returned to school, this time to the University of Virginia law school, and earned her J.D. in 1999. Nielsen then worked as an associate in the corporate practice group of the law firm Haynes and Boone in Dallas.
Nielsen returned to government in 2002 as director of the Office of Legislative Policy in the newly created Transportation Security Administration. After two years there, Nielsen moved over to the White House as special assistant to the president and senior director for prevention, preparedness and response. She had that job in 2005 when Hurricane Katrina slammed into the Gulf Coast. Nielsen's job didn't involve coordinating storm response—she served more as an information conduit to the White House—but the George W. Bush administration's botched response to Katrina reflected poorly on all involved.
A bipartisan report (pdf) prepared by the House of Representatives after Katrina specifically cites Nielsen for not recognizing the storm's potential for destruction, although her office had received warnings. The Washington Post reported that "Nielsen was one of a handful of White House officials warned of the so-called 'New Orleans scenario': a hurricane rated Category 3 or higher hitting the city and bursting its aging levees." Even after in the storm's aftermath, with hundreds of people awaiting rescue, Nielsen's office had trouble getting the attention of Bush, who went to California to give a speech. "It does not appear the president received adequate advice and counsel from a senior disaster professional," according to the House report.
Nielsen left the White House and in May 2007 became general counsel for the national security division and managing director of Civitas Group, "a strategic advisory and investment firm serving the homeland and national security markets," where she consulted on security issues. In 2012, she became president of Sunesis Consulting, consulting on preparedness strategies, particularly infrastructure issues. Nielsen also served as a civilian expert to NATO. By 2016, she was chair of Global Agenda Council on Risk and Resilience at the World Economic Forum and a senior fellow at George Washington University's Center for Cyber and Homeland Security.
Nielsen joined the Trump administration in January 2017 as chief of staff to then-Homeland Security Secretary Kelly after having shepherded Kelly through the confirmation process. She earned Kelly's respect, running a tight ship at DHS, and moved with him over to the White House as Kelly's deputy when he was named Trump's chief of staff.
Her brusque style hasn't won her many friends, and some DHS employees are concerned about her ability to run such a large organization. "The pick is not being received well," an official, who insisted on anonymity, told Newsweek. "While she's probably had some great jobs, it doesn't speak to the level of running a 200,000-person law enforcement agency." Still, Nielsen is seen as a hard worker and popular with Republicans. However, almost immediately after the announcement of her nomination, she was embroiled in controversy. The White House held a cocktail party in her honor in the East Room and later billed taxpayers $8,000 for the event, which was attended by corporate lobbyists.
-Steve Straehley
To Learn More:
Congress Wants an Investigation of an $8,000 Party for a White House Nominee (by Heather Timmons, Quartz)
The White House Held a Fancy Party for its New DHS Nominee, then Sent the Agency the Bill (by Heather Timmons, Quartz)
Trump's Pick for DHS Chief Was at Center of Katrina Disaster (by Nick Miroff, Washington Post)
Kelly's Deputy Annoys Trump Aides With Rigid Style (by Annie Karni, Politico)
Trump Taps Kirstjen Nielsen to Lead Department of Homeland Security (by Ashley Parker and Matt Zapotosky, Washington Post)
Who Is Kirstjen Nielsen, Trump's Pick for Secretary of Homeland Security? (by Max Kutner, Newsweek)