Secretary of the Department of Homeland Security: Who Is John F. Kelly?
Tuesday, January 24, 2017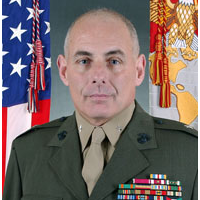 John F. Kelly
Former Marine Corps General John F. Kelly, who rose from the enlisted ranks to lead the United States Southern Command, was confirmed on January 20, 2017, to be Secretary of Homeland Security with the Senate voting 88-11. He was sworn in later the same day.
Kelly was born in Boston on May 11, 1950, and grew up in the neighborhood of Brighton. His taste for adventure manifested itself early; Kelly hitchhiked across the country and rode a freight train from Seattle to Chicago. He also served in the Merchant Marine, saying that his first trip overseas was to deliver beer to soldiers in Vietnam.
In 1970, with the likelihood that he'd be drafted, Kelly enlisted in the Marine Corps. He didn't get to Vietnam with the Corps, though. He was assigned to the Second Marine Division at Camp Lejeune, North Carolina, and mustered out in 1972 as a sergeant.
Kelly then returned to Boston for college with the idea of returning to the Marine Corps as an officer. He graduated in 1976 from the University of Massachusetts and went into Officer Candidate School. Later that year, he was commissioned as a second lieutenant in the Marine Corps and worked at the Pentagon. Kelly again went back to school, earning an M.S. in National Security Studies from Georgetown in 1984.
That same year, he returned to the Second Marine Division to become a company commander and in 1987 was promoted to major as battalion operations officer. He subsequently was head of the Offensive Tactics Section, Tactics Group, and later assumed the duties of the director of the Infantry Officer Course at Quantico, Virginia. After being selected to be lieutenant colonel, Kelly was made commanding officer of the 1st Light Armored Reconnaissance Battalion in the First Marine Division.
By 1995, Kelly had earned an M.S. from the National War College and was a colonel who worked on Capitol Hill in the Commandant's Liaison Office. He was sent to Europe as special assistant to the Supreme Allied Commander in Mons, Belgium, in 1999.
Kelly returned to a combat unit and the First Marine Division in 2002 as assistant division commander. In 2003, while he was in Iraq, Kelly became the first officer promoted to general in a combat zone since it happened to Lewis "Chesty" Puller, also a Marine, in Korea in 1951.
Kelly returned to Washington in 2004 when he was made legislative assistant to the commandant. By 2008, he was a major general and made commander of the First Marine Expeditionary Force at Camp Pendleton, California. The following year he was put in charge of Marine Forces Reserve and Marine Forces North.
Both of Kelly's sons served in the Marines. In 2010, his son Robert, who like his father had enlisted in the Marines and later become an officer, died when he stepped on a land mine in Afghanistan.
Kelly's next assignment was a military assistant to the Secretary of Defense, first Robert Gates and then Leon Panetta. In 2013, Kelly was put in charge of the Southern Command, which is responsible for U.S. military activities in Central and South America. The Southern Command's reliance on interagency cooperation and its focus on drug-trafficking and organized crime issues gave Kelly experience that would appear to translate well to leading the Department of Homeland Security (DHS).
Kelly's appointment drew approval from Democrats as well as Republicans. Outgoing DHS Secretary Jeh Johnson had considered appointing Kelly to head the Secret Service when that agency was embroiled in controversy. Panetta has also praised Kelly's appointment, saying "He has led our men and women in uniform and understands what it takes to keep our nation safe."
But some civil libertarians are concerned about some stances Kelly has taken. Shortly after the death of his son, Kelly spoke to a group in St. Louis and said, "Their struggle is your struggle. If anyone thinks you can somehow thank them for their service, and not support the cause for which they fight—our country—these people are lying to themselves.…More important, they are slighting our warriors and mocking their commitment to this nation."
Kelly has been reluctant to support the idea of opening all military jobs to women. "They're saying we are not going to change any standards," Kelly said. "There will be great pressure, whether it's 12 months from now, four years from now, because the question will be asked whether we've let women into these other roles, why aren't they staying in those other roles? Why aren't they advancing as infantry people?"
In addition, Kelly was critical of President Obama's efforts to close the prison camp at Guantánamo Bay, Cuba. When he couldn't keep his promise to close the facility because of resistance from Congress, Kelly said in testimony, "In talking to the hunger strikers, they had great optimism that Guantánamo would be closed. They were devastated when the president backed off—at least their perception—of closing the facility." Kelly also told The Washington Post in a 2014 interview that human rights concerns about the prisoners in Guantánamo were "foolishness." Kelly retired from the Marine Corps in 2016.
Like his new boss, Donald Trump, Kelly has railed against the media. In 2010, he stated, "Yes, we are at war, and are winning, but you wouldn't know it because successes go unreported, and only when something does go sufficiently or is sufficiently controversial, it is highlighted by the media elite that then sets up the 'know it all' chattering class to offer their endless criticism. These self-proclaimed experts always seem to know better, but have never themselves been in the arena."
In addition to Robert, Kelly and his wife Karen have a son, John, who's also a Marine officer, and a daughter, Kathleen.
-Steve Straehley
To Learn More:
What You Don't Know About Gen. John Kelly (by Kevin Baron, Defense One)
A Troubling Quote From Trump's Pick for Homeland Security Chief (by Greg Sargent, Washington Post)
Donald Trump Picks John Kelly, Retired General, to Lead Homeland Security (by Mark Landler and Maggie Haberman, New York Times)
Retired Marine Gen. John F. Kelly Picked to Head Department of Homeland Security (by Jerry Markon and Dan Lamothe, Washington Post)
Veterans Day Speech 2010 (John F. Kelly)
Official Biography (Department of Defense)