Republicans Look to Repeat with Zika Virus Their Wrongheaded Approach to Ebola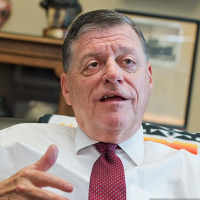 GOP Rep. Tom Cole: Funding to combat Zika unlikely before September (photo: Tom Williams, Getty Images)
By Nicholas Kristof, New York Times
In a moment, we'll get to the Zika virus.
First, remember how scathing Republicans were about President Barack Obama's handling of Ebola in the fall of 2014? They lambasted his reluctance to ban travelers from affected nations, with Paul Broun, a House member from Georgia then, even wondering if Obama had a "purposeful" plan to use Ebola to harm America.
Phyllis Schlafly, the conservative gadfly, suggested that Obama didn't care if Ebola devastated the United States: "He wants us to be just like everybody else, and if Africa is suffering from Ebola, we ought to join the group and be suffering from it, too."
A Fox News contributor, Dr. Keith Ablow, suggested in a radio broadcast that Obama perhaps wanted America to suffer from Ebola because "his affiliations" are with Africa rather than with America.
Then there was Donald Trump. After a New York physician, Craig Spencer, returned from treating Ebola patients in West Africa and showed symptoms of the disease, Trump tweeted that if the doctor developed Ebola (he did), "Obama should apologize to the American people & resign!"
Trump added: "President Obama, you are a complete and total disaster, but you have a chance to do something great and important: STOP THE FLIGHTS!" That was a reference to what appeared to be the GOP strategy at the time: Let Ebola destroy Africa and much of the rest of the world, but try to seal off the United States from infection.
In the 2014 elections, Republican candidates ran hundreds of ads denouncing the Obama administration's handling of Ebola.
Meanwhile, Gov. Chris Christie of New Jersey forcibly confined Kaci Hickox, a nurse returning from West Africa, as she passed through Newark's airport on her way to Maine. By quarantining her in a tent though she tested negative for Ebola, he complicated initiatives to send health workers to fight the disease in Africa.
In contrast, Obama's approach was spectacularly successful. With crucial support from Britain and France, and heroic efforts by groups like Doctors Without Borders and Samaritan's Purse, Obama deployed troops to West Africa and was able to pretty much extinguish the virus there, averting a global humanitarian and economic catastrophe.
The Centers for Disease Control and Prevention had calculated that without an intervention there might be 1.4 million cases of Ebola in Liberia and Sierra Leone by January 2015. From there it could have catapulted around the world, killing millions, entering the United States, devastating the global economy and becoming impossible to eradicate in some places.
That might have happened if someone like Trump or Christie had been in charge. It's tragic that 11,300 West Africans died from Ebola, but the toll would have been incomparably higher — in Africa and in America — if not for Obama's actions.
Hey, Trump, do you still think that Obama should resign for his handling of Ebola?
All of that is worth reviewing because congressional Republicans are now again trying to block a sensible effort to address a public health crisis, this time a Zika virus outbreak that is steadily moving to the continental U.S., bringing with it calamitous birth defects.
In February, Obama urgently requested more than $1.8 billion to address Zika, and Congress since then has done nothing but talk. Republicans have protested that the administration doesn't need the money, that they have questions that haven't been answered or that the request is vague. These objections are absurd.
Even Sen. Marco Rubio laid into his fellow Republicans a few weeks ago, saying: "The money is going to be spent. And the question is, Do we do it now before this has become a crisis, or do we wait for it to become a crisis?"
Rubio is right. It's always more cost-effective and lifesaving to tackle an epidemic early.
"I'm very worried, especially for our U.S. Gulf Coast states," said Dr. Peter Jay Hotez, a tropical diseases expert at Baylor College of Medicine. "I cannot understand why a member of Congress from a Gulf Coast state cannot see this train approaching. It's like refusing emergency preparedness funds for an approaching hurricane."
We don't know how badly Zika will hit the U.S. But, the first American has just died of it, and federal health professionals are debating whether to counsel women in Zika areas to avoid pregnancy — and to me, that sounds serious.
The larger mistake is that budget cutters have systematically cut public health budgets that address Zika, Ebola and other ailments. The best bargain in government may be public health, and Republicans have slashed funding for it while Democrats have shrugged.
"Special funds for public health preparedness have been cut by more than 30 percent over the last decade and hospital preparedness by more than half," said Dr. Irwin Redlener of Columbia University and its National Center for Disaster Preparedness. "All of this leaves the country far more vulnerable than people realize to threats like a Zika outbreak — or whatever else the future has in store."
He added, "We will pay a steep price for this particular shortsightedness."
To Learn More:
Expert U.S. Epidemics Firm Accused of Bungling Ebola Outbreak Response (by Raphael Satter and Maria Cheng, Associated Press)
Greed of Drug Industry Cited by World Health as Reason for Lack of Ebola Vaccine (by Noel Brinkerhoff, AllGov)
In a Reversal, Rwanda Screens Air Passengers Arriving from U.S. for Ebola (by Noel Brinkerhoff, AllGov)
Airlines' Ebola Screening System is only as Reliable as the Screeners and the Passengers (by Noel Brinkerhoff, AllGov)