Airlines' Ebola Screening System is only as Reliable as the Screeners and the Passengers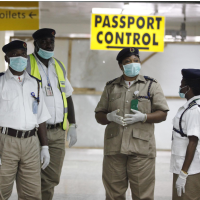 Ebola screeners at Lagos, Nigeria airport (photo: Sunday Alamba, AP)
Keeping the deadly Ebola virus contained to West Africa is proving difficult, given that airlines flying out of the region are relying on the honesty of passengers and the competency of airport screeners only recently trained to identify those carrying the illness.
The Centers for Disease Control and Prevention (CDC) sent experts to Liberia, Sierra Leone and Guinea two months ago to help improve airport screening programs.
The efforts included giving out hand-held non-invasive scanners to check the body temperatures of passengers trying to board flights bound for the U.S. and other destinations.
But a key component of the screening efforts—and what some critics say is a major flaw—is the reliance on passengers to be truthful about their exposure to the virus and how they are feeling. Screeners ask ticketholders if they have been exposed to Ebola in the previous three weeks, are feverish or have other symptoms, including severe headache, muscle ache, abdominal pain, unusual bruising or bleeding, vomiting and diarrhea. The good news is that only those with such symptoms are contagious and those people are less likely to feel like getting on an airplane.
"It is unclear how consistently or effectively those screenings are conducted across West Africa," according to The New York Times, or "how many potential travelers had been caught by screeners — if any."
That's disconcerting news considering more than 10,000 people flew from Sierra Leone to the U.S. on trips involving U.S. carriers from April 2013 to March 2014. Another 17,000 flew from Liberia to the U.S. during the same period. Those flying strictly on foreign airlines were not counted.
-Noel Brinkerhoff
To Learn More:
Man in U.S. With Ebola Had Been Screened to Fly, but System Is Spotty (by Matthew L. Wald and Jad Mouwad, New York Times)
Why Hasn't the U.S. Closed its Airports to Travelers from Ebola-Ravaged Countries? (by Abby Phillip, Washington Post)
Ebola Patient's Journey Shows How Global Travel Spreads Disease (by Norimitsu Onishi and Jad Mouawad, New York Times)
Airlines: No Need to Panic over Ebola (by Ashley Halsey III, Washington Post)