Phone Routing Firm Recruits Ex-Homeland Chief to Sound Alarm on U.S. Security in Bid to Hold Onto Federal Contract
Tuesday, September 30, 2014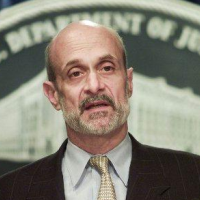 Michael Chertoff (AP photo)
Every day, hundreds of millions of phone calls and texts are routed throughout North America by an obscure federal office operated by a private telecommunications company. This operation has gone largely unnoticed but a potential change in contractor has set off a debate in Washington, complete with a former Secretary of the Department of Homeland Security (DHS) serving as hired gun to lobby on the matter.
Michael Chertoff, who led DHS under President George W. Bush, has been brought in by Virginia-based Neustar, the current operator of the Number Portability Administration Center (NPAC), to help it keep the job of being "the air traffic controller for the nation's phone system," The New York Times wrote. NPAC is responsible for managing and routing calls and texts for more than 650 million American and Canadian phone numbers handled by more than 2,000 carriers. It also gives government intelligence and law enforcement agencies a way to find out where calls are being routed.
But Neustar's hold on the $446 million NPAC job is being threatened by Telcordia Technologies, a U.S. subsidiary of Swedish technology firm Ericsson. Telcordia is biding to replace Neustar, which in turn has started a scare campaign with the help of Chertoff warning that putting NPAC in the hands of an American division of a European business could jeopardize the security of U.S. telecommunications. In a report submitted to the Federal Communications Commission, which oversees the contract, Chertoff said that under Telcordia, "security would become obsolete in the face of constantly morphing threats," the Times reported.
Joining the debate are federal law enforcement agencies, including the Federal Bureau of Investigation, which are worried the NPAC switch will disrupt their ability to snoop on phone calls or allow a foreign intelligence agency to gain access to the system. "The agencies expressed particular concern that a contractor with access to the phone system from outside the United States could mean 'unwarranted, and potentially harmful' access to American surveillance methods and targets," the Times' Eric Lichtblau wrote.
Last spring, the North American Numbering Council (NANC), a federal advisory committee, recommended that Telcordia's Iconectiv unit win the contract, according to Fierce Wireless. Neustar officials say Telcordia runs number-portability systems in 15 countries and the company could use foreign-written code to operate a system here. However, Telcordia officials deny that's the case.
-Noel Brinkerhoff
To Learn More:
Spy Agencies Urge Caution on Phone Deal (by Eric Lichtblau, New York Times)
Lawmakers Urge FCC to Consider National Security in Neustar Fight with Ericsson's Telcordia (by Phil Goldstein, Fierce Wireless)