Pentagon Refuses to Release Unclassified 1987 Report about Israel's Nuclear Program and Super Computers
Tuesday, January 13, 2015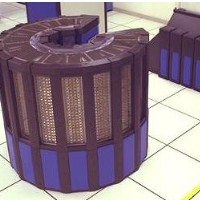 Cray supercomputer (photo: Wikipedia)
A think tank researcher has been fighting with the Pentagon to get a 1987 report on Israel's nuclear program and supercomputers released despite the fact that the document in question is not classified.
Grant Smith, founder of the Institute for Research: Middle Eastern Policy, Inc., first asked the Department of Defense (DoD) to release the report ("Critical Technology Issues in Israel and NATO Countries") three years ago through a Freedom of Information Act request.
Last fall, after numerous delays by the DoD, Smith went to court to force the report's disclosure.
Defense lawyers contend it was necessary for officials to ask Israel to review the report before complying with Smith's request—an unusual move on the part of a U.S. agency involving an American FOIA issue.
Meanwhile, the judge hearing the FOIA case, U.S. District Judge Tanya Chutkan, has wondered why it has taken three years without a decision by the Pentagon.
"I'd like to know what is taking so long for a 386-page document. The document was located some time ago," Chutkan said in November, according to Courthouse News Service. "I've reviewed my share of documents in my career. It should not take that long to review that document and decide what needs to be redacted."
The report may contain details about an internal debate nearly 30 years ago among U.S. officials about whether Washington should authorize the sale of a Cray supercomputer to a coalition of Israeli universities.
"The United States approved the sale of powerful computers that could boost Israel's well-known but officially secret A-bomb and missile programs," wrote the author of a 1995 Risk Report article about the Cray controversy that cited the Pentagon document. "A 1987 Pentagon-sponsored study found that Technion University, one of the schools in the network, was helping design Israel's nuclear re-entry vehicle. U.S. officials say Technion's physicists also worked in Israel's secret weapon complex at Dimona."
Smith's effort "to get hold of the Pentagon report is set against the backdrop of the Nuclear Non-Proliferation Treaty," wrote Janet McMahon at Courthouse News Service. "Israel has not signed the treaty. Iran, on the other hand, has signed the treaty."
The current negotiations with Iran over its nuclear program is part of that backdrop. "The reason this would be seen as controversial is you have this real concerted push for Iran to come clean on its nuclear program and to relinquish its infrastructure," Foundation for Defense of Democracies VP Jonathan Schanzer told the Washington Examiner. He said he saw "no reason" why the U.S. government would authorize the report's release, but adding that if it was released, it would probably not affect the Pentagon's publicly ambiguous stance regarding Israeli nuclear capabilities.
Smith has grown frustrated over the government's stalling on the issue, saying: "So what we've seen most recently is that the government is now coming up with novel ways to try and delay this by talking about mandatory disclosure reviews. We don't think it's meaningful that their captive think tank may have signed NDAs. Perhaps they even have a sock puppet in the Pentagon that signs NDAs on their behalf. It would be the same from our perspective."
-Noel Brinkerhoff, Danny Biederman
To Learn More:
DOD Fights Researcher Over Access to Report on Israel's Nuclear Needs (by Janet McMahon, Courthouse News Service)
Legal Battle To Publish Unclassified DOD Report On Israeli Nukes Nears End (by Sarah Westwood, Washington Examiner)
Espionage Allegations Intensify Battle for Israel's Technion Nuke File (by Grant Smith, AntiWar.com)
Caltech Prof Says Israeli Scientist Passed NASA Rocket Secrets To His Government (Mondoweiss)