Unregulated Outside Spending Wins Elections: 2010 Edition
Monday, November 08, 2010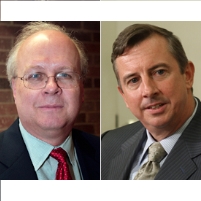 Karl Rove and Ed Gillespie, non-candidate winners of the 2010 elections
The key to winning many of year's contested congressional races was getting more help from outside groups than the other side from groups that either accept unlimited contributions or do not disclose the source of their money.
Overall, the Club for Growth claimed a record of 20 wins and only 3 losses, with 3 races still undecided. The U.S. Chamber of Commerce raked up a record of 38-21 and American Crossroads, investing in more challenging races, won 23 and lost 13.
Urged on by Karl Rove, George W. Bush's senior advisor and deputy chief of staff, and Ed Gillespie, counselor to Bush, the groups coordinated their spending, beginning with meetings that initially were held in Rove's living room.
-Noel Brinkerhoff, David Wallechinsky