Only 2 Countries Have Not Joined the UN Convention of the Rights of the Child: South Sudan and…United States
Tuesday, January 27, 2015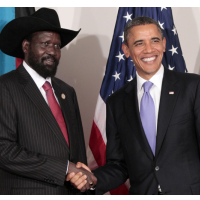 South Sudan President Salva Kiir and President Obama (photo: Mandel Ngan, AFP/Getty Images)
An international agreement created to better protect children from abuse and exploitation has been embraced by all of the world's nations except two.
One the holdouts is still very young as a nation, having only gained its independence four years ago: South Sudan.
The other outcast doesn't have this excuse, given its nationhood started about 230 years ago: the United States.
The Convention on the Rights of the Child (CRC), which protects and promotes the rights of children everywhere, has been around since 1990.
The U.S. was heavily involved in drafting the CRC under the Ronald Reagan and George H.W. Bush administrations, and did sign it in 1995. However, President Bill Clinton never submitted it to the U.S. Senate, which must approve it with a two-thirds majority vote before the president can ratify it.
George W. Bush also did not ask the Senate to ratify it.
Nor did President Barack Obama, who, during his 2008 presidential campaign, said of the CRC, "It is embarrassing that the U.S. is in the company of Somalia, a lawless land. If I become president, I will review this and other human rights treaties."
Obama still hasn't sent the treaty to the Senate, while Somalia ratified it last week.
Supporters of the CRC say it's unlikely the U.S. will ratify it anytime soon, given that Republicans—who have previously expressed opposition to the treaty and often reject ideas coming out of the United Nations—are in charge of the Senate now.
The basis for U.S. conservatives' opposition to the CRC is twofold, according to Meg Gardinier, chair of the Campaign for U.S. Ratification of the CRC. One is their stock position that U.S. ratification of international human rights treaties will weaken U.S. sovereignty. The other is their stated belief that being a party to the treaty will undermine the role of American parents in raising their children.
The treaty is "not meant to set children against parents," countered Gardinier in an interview with the Inter Press Service. "It is the Campaign's conviction that the CRC protects children, preserves and strengthens families and is unquestionably improving the lives of children."
"The U.S. cannot credibly encourage other nations to embrace human rights for children if it fails to embrace these norms," she added.
South Sudan, meanwhile, has passed a bill for the ratification of the treaty. If that happens, the U.S. will stand alone in the world in opposing children's rights for all nations.
-Danny Biederman, Noel Brinkerhoff
To Learn More:
U.S. May Soon Stand Alone Opposing Children's Treaty (by Thalif Deen, Inter Press Service)
U.S. Ratification of the Convention on the Rights of the Child (Wikipedia)
Somalia: Somali President Signs the Convention of the Right of the Child (Raxanreeb)
185 Countries Guarantee Paid Family Leave; The 3 that don't: Papua New Guinea, Oman and U.S. (by Noel Brinkerhoff, AllGov)