Once Again, Libertarian and Green Parties are Denied Participation in Presidential Debates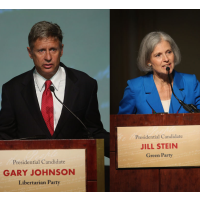 Gary Johnson, Jill Stein (photos: Scott Olson, Getty Images)
By Kevin Lessmiller, Courthouse News Service
(CN) — A federal judge on Friday shot down the Libertarian and Green parties' claim that they have a legal right to participate in this year's presidential debates.
The Libertarian National Committee and the Green Party — and their respective presidential nominees, Gary Johnson and Jill Stein — sued the Republican National Committee and Democratic National Committee, as well as the Commission on Presidential Debates, or CPD, a nonprofit corporation founded by the RNC and DNC.
The minor parties tried to get invited to the privately-sponsored presidential debates in 2012, but were unsuccessful. Johnson sued over his exclusion in October 2012.
This time around, the Libertarian and Green Parties claimed that the rules barring their participation in the debates violate antitrust law.
U.S. District Judge Rosemary Collyer disagreed in a 27-page ruling filed Friday morning dismissing the case.
"Because plaintiffs have no standing and because antitrust laws govern commercial markets and not political activity, those claims fail as a matter of well-established law," Collyer wrote. "Plaintiffs also allege violations of the First Amendment, but those claims must be dismissed because the First Amendment guarantees freedom from government infringement and defendants here are private parties."
The judge said the minor parties' "alleged injuries are wholly speculative and are dependent entirely on media coverage decisions."
"The alleged injuries——failure to receive media coverage and to garner votes, federal matching funds, and campaign contributions—were caused by the lack of popular support of the candidates and their parties sufficient to attract media attention," Collyer said.
Green Party spokesman Scott McLarty said the party is disappointed with Friday's ruling.
"Any candidate who has ballot lines in enough states to win, if enough voters voted for him or her, should be admitted to the debates," he said via email. "That should be the qualification. In 2012, Green nominee Jill Stein was on the ballot in 37 states, enabling 82 percent of voters to vote for her if they chose to do so."
McLarty added, "Greens are challenging supporters of Bernie's political revolution to join the demand to allow the Green nominee into the debates. No movement can survive if it participates in the censorship of its own agenda."
Ron Nielson, Johnson's campaign manager, also expressed disappointment with the ruling and said, "From an initial look, our legal counsel sees several serious flaws in the court's basis and reasoning."
"We are exploring our options, with the firm resolve that this case and the larger issue of fair debates are too important to simply allow such an arbitrary dismissal," Nielson said in a statement. "At the same time, with Gov. Johnson consistently polling in double-digits, we continue to believe that the CPD should make the right and fair decision to invite him to participate in the upcoming debates. There is clearly an unprecedented desire for alternatives to the Republican and Democratic nominees, and voters deserve an opportunity to see and hear that there are, in fact, other credible, serious choices."
To Learn More:
Gary E. Johnson, et al. v. Commission on Presidential Debates, et al. (U.S. District Court for District of Columbia)
American Voter Dissatisfaction with Two Likely Presidential Nominees Highest in Decades (by Dan McCue, Courthouse News Service)
Don't Like Clinton or Trump? Just Shut Up and Watch TV (by David Wallechinsky, AllGov)
Why are There only 2 Candidates in the Presidential Debates? (by David Wallechinsky, AllGov)