Oil Platform has been Leaking into Gulf of Mexico for more than 10 Years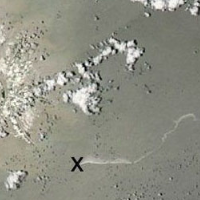 X marks the site of theTaylor leak, with spill trailing to the right (photo: NASA)
Lost in the furor over the Deepwater Horizon oil well explosion and subsequent venting of oil into the Gulf of Mexico has been a smaller, yet persistent, leak of oil from wells destroyed in a hurricane more than 10 years ago.
When Hurricane Ivan moved through the Gulf in September 2004, it caused a landslide that buried wells owned by Taylor Energy Co. Ever since then, those wells have been steadily sending a ribbon of oil into the Gulf of Mexico. While Taylor has claimed the leak has released as little as 4 gallons of crude a day into the Gulf, and the Coast Guard has spotted sheens averaging 84 gallons a day, some estimates of the total leak are far larger, running as high as 900 gallons a day.
"The Taylor leak is just a great example of what I call a dirty little secret in plain sight," SkyTruth President John Amos, a geologist whose environmental watchdog group has monitored the slicks by satellite, told the Associated Press.
Usually when a well blows out, it's plugged (eventually) and abandoned. But because the Taylor wells are buried, that procedure won't work. Instead, another company was hired to develop a proprietary plan to stop the leak. Despite those efforts, the leak of oil continues, but there's no corresponding flow of information about the process available to the public, claiming the need to protect trade secrets. The company won't share information about its efforts to others in the industry to prepare for similar leaks.
Taylor, which has long-since divested itself of all its energy assets and is in business only to deal with the leak, has presented a plan that appears to involve doing—nothing. The plan, of course, is secret, but does say that the "best course of action...is to not take any affirmative action," for fear of causing more environmental damage.
Sen. Bill Nelson (D-Florida), whose state's beaches stand to receive the fallout from the Taylor leak, is fed up with the inability to cap the flow of oil into the Gulf. "It is unacceptable that in the eleven years since a hurricane caused an underwater mudslide, crude oil has continued to flow unabated into the Gulf of Mexico—especially given the attention focused on such accidents by the BP oil spill almost exactly five years ago," Nelson wrote Friday in a letter to Interior Secretary Sally Jewell and Department of Homeland Security Secretary Jeh Johnson.
-Steve Straehley
To Learn More:
Secrecy Shrouds Decade-Old Oil Spill in Gulf of Mexico (by Michael Kunzelman and Jeff Donn, Associated Press)
Senator: Decade-Old Gulf Oil Leak Is 'Unacceptable' (by Michael Kunzelman, Associated Press)
Taylor Energy Oil Platform, Destroyed In 2004 During Hurricane Ivan, Is Still Leaking In Gulf (by Mark Schleifstein, New Orleans Times-Picayune)