North Carolina's Messy Voting Laws Restrict Voting and Support Gerrymandering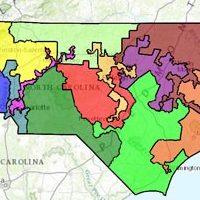 North Carolina Congressional Districts (graphic: Wikipedia)
A federal court in North Carolina is now hearing testimony in a case that could have an impact on the rollback of voting rights across the country.
At the start of this decade, North Carolina's voting laws were a model of inclusion. The state allowed 17 days of early voting, teenagers who were approaching voting age could pre-register to vote, there was same-day registration and voters could even cast ballots outside their assigned precinct. The state's Department of Motor Vehicles was also required to contact drivers about being registered when they reported an address change.
Then, three things happened. First, a Republican tide swept through the North Carolina legislature in 2010. Next, after the 2010 Census, the legislature drew a congressional district map that some have called the most gerrymandered in the country. The gerrymandering worked; most of the state's Democratic voters were packed into a few odd, snake-like districts. Democrats won only four congressional seats in 2012, when the state's registration and voting numbers indicated they should have won seven.
Then, in 2013, the U.S. Supreme Court gutted the Voting Rights Act (pdf), killing Section 5, which required that several states pre-clear any changes to their voting laws to ensure they weren't discriminatory. North Carolina was one of the states that had been subject to pre-clearance.
Granted free rein from the Supreme Court to see how far they could go to keep those likely to vote Democratic away from the polls, North Carolina's legislators, with the help of Republican Gov. Pat McCrory, went to work. Early voting days were cut from 17 to 10. Pre-registration was done away with, as was same-day registration and the ability to cast ballots in another precinct. In addition, a tough voter identification law was enacted.
The state was sued in federal court over the changes. The judge, George W. Bush appointee Thomas Schroeder, refused to stay the changes in the laws for the 2014 election. That election went as one might have predicted—many who had voted for years were prevented from casting ballots because they had no birth certificate, or couldn't obtain IDs after multiple attempts.
Schroeder is now hearing evidence in the case, NAACP vs. McCrory (pdf). The Obama Justice Department is arguing that the multiple changes in North Carolina's voting laws intentionally make it more difficult for low-income and minority voters to cast ballots. The discriminatory effects were "neither accidental nor unforeseen," Catherine Meza, a lawyer with the Department of Justice, said in her opening statement, according to The New York Times. North Carolina argues that the laws apply equally to everyone, and thus are not discriminatory. If Schroeder finds that North Carolina's laws are deliberately discriminatory—something that might be tough to prove in court—he can order that the state again be forced to pre-clear its changes to voting laws.
"This case will determine how cases are dealt with all over this country. If we win, we will stop legislators across the U.S. from rolling back voting rights. They will understand they cannot do this," the Rev. William Barber, head of North Carolina's NAACP, said on the eve of the trial, according to ThinkProgress. "This case will also show Congress they must fix Section 4 and reinstate Section 5 [of the Voting Rights Act] so that states like North Carolina are covered."
The state in June did loosen its identification standards somewhat. According to Samantha Lachman of The Huffington Post, one can vote without a state-approved ID if there is a "reasonable impediment" to obtaining one. The law says a reasonable impediment could include lack of transportation or a birth certificate, disability or illness, and work or family responsibilities. If a voter provides other forms of identification, such as the last four digits of their Social Security number or a utility bill, their ballot is supposed to be counted. But that's assuming the poll workers are up on the law.
"They're gonna stick to the law that says you need to present a photo ID when you come to vote, so it's going to be small print what the alternatives are and that's a concern," Bob Hall, executive director of Democracy North Carolina, told The Huffington Post.
If poll workers show the same attention to detail that some of that state's DMV employees do, it could be a problem. Voting rights groups have sent a complaint letter (pdf) to McCrory, suggesting that the state has violated the National Voter Registration Act. Many who have put in change-of-address forms at state DMV offices over the past couple years have found when they went to vote that the changes were not noted. The victims of the DMV's inaction include a voting-rights worker and paralegal and the daughter of the chief justice of the state's Supreme Court. The justice had even been present at the DMV when his daughter requested her voting address be changed. Nonetheless, she was denied the chance to vote.
The same thing happened to U.S. Army veteran Sherry Holverson, who told ThinkProgress that she is concerned about the state's large population of veterans being particularly vulnerable to disenfranchisement due to their need to make frequent address changes. "We risk our lives for our state and our country, and then we can't even vote?" she said. "It's sad, because people are not even going to try to vote if they feel like they're wasting their time. They're doing what they're supposed to do and then their vote isn't counted or it becomes a big frustration. Who wants to stay in North Carolina if you can't even get the right to vote?"
The state's welfare offices have also been part of the problem. By federal law, offices where people can sign up for welfare, food stamps and other assistance must offer voter registration. But those doing so at such offices in North Carolina fell from 43,000 to 13,000 from 2011 to 2014, according to ThinkProgress. Voting rights groups found that at 19 offices, there weren't even registration forms in the building.
Nor are the Republicans' efforts limited to voting restrictions. Residents of Greensboro are suing to block a law that put the city's voting maps in the hands of the Republican-dominated legislature. The law, pushed through the legislature in an irregular manner, will end up forcing some of the city's black council members to face each other for re-election, taking away the mayor's vote and preventing the city from changing its voting laws and maps. It's the only city in the state with such restrictions.
"It's a prime example of government overreach," Rep. Cecil Brockman (D), whose district includes Greensboro, told ThinkProgress. "Yet these are the same people who talk about the federal government being too intrusive into state's rights and go on about how local government should have the power because they know best."
The effects of statewide gerrymandering since 2010 have taken what is in fact a "purple" state (given its 50/50 split between a Democratic and Republican electorate) and contributed to turning it into a "red" one in terms of election outcomes. Both houses of the state legislature are dominated by Republicans.
"Nobody can say that's the electorate of North Carolina," said Brockman. "So you have African-American voters right now who may have representation but don't have any power. It's purposeful and it's wrong. It's the reason North Carolina has taken such a conservative turn."
-Steve Straehley
To Learn More:
North Carolina's Voter Registration Errors Hit Veterans and the Poor (by Alice Ollstein, ThinkProgress)
North Carolina Just Relaxed Its Voter ID Law, But Will Voters Get The Memo? (by Samantha Lachman, Huffington Post)
Sides Dispute Basis of North Carolina Voting Laws as Trial Contesting Them Opens (by Erik Eckholm, New York Times)
This City Is Making African American Councilmembers Run Against Each Other (by Alice Ollstein, ThinkProgress)
Trial Begins For 'The Worst Voter Suppression Law We've Seen Since the 1960s' (by Alice Ollstein, ThinkProgress)
Letter to Kim Westbrook Strach, Executive Director, North Carolina State Board of Elections (Demos / Project Vote / Southern Coalition for Social Justice) (pdf)
Federal Judge Supports North Carolina Voter Restrictions (by Noel Brinkerhoff and Steve Straehley, AllGov)
North Carolina Latest State to be Sued by Justice Department Over Voter ID Law (by Noel Brinkerhoff, AllGov)