New Jersey Supreme Court First to Order Warrants for Cell Phone Tracking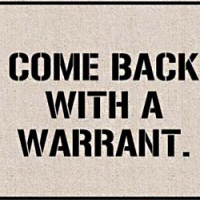 (graphic: Target.com)
Privacy advocates welcomed a rare win last week, as the New Jersey Supreme Court expanded privacy rights in the state, becoming the nation's first state supreme court to rule that police must first obtain a search warrant if they want to track a suspect by tracing their cell phone signals, unless an emergency or other generally recognized exception to the warrant requirement applies.
The case was an appeal filed by Thomas Earls, who was arrested for burglary in 2006 after police used his cell signal to track him down without first getting a search warrant. Unanimously reversing an appellate court decision that the police did not need a warrant because Earls was driving on public roads when he was being tracked, Chief Justice Stuart Rabner wrote that "cell phones are not meant to serve as tracking devices to locate their owners wherever they may be."
Expanding on the point, Rabner—who was appointed by Democratic Governor Jon S. Corzine in 2007—wrote that,
Using a cell phone to determine the location of its owner…is akin to using a tracking device and…involves a degree of intrusion that a reasonable person would not anticipate. Location information gleaned from a cell-phone provider can reveal not just where people go—which doctors, religious services, and stores they visit—but also the people and groups they choose to affiliate with and when they actually do so. That information cuts across a broad range of personal ties with family, friends, political groups, health care providers, and others. In other words, details about the location of a cell phone can provide an intimate picture of one's daily life.
The court's decision was based on Article I, Section 7 of the New Jersey State Constitution, not on the Fourth Amendment to the U.S. Constitution. As Justice Rabner pointed out, although the language of these two texts is "nearly identical," the U.S. Supreme Court has interpreted the Fourth Amendment much more narrowly, limiting its reach by adding a requirement that a person must meet an exacting definition of having a "reasonable expectation of privacy" in the property searched or seized.
Nevertheless, privacy advocates hope that the well-written, unanimous opinion will influence judges and legislators around the U.S. to rein in the wide-ranging electronic surveillance that has characterized the period since the terror attacks of September 11, 2001.
"The New Jersey Supreme Court is the first state supreme court to impose a warrant requirement for cell phone locations, and that's a very important step in an evolving area of the law," said Alan Butler, an attorney at the Electronic Privacy Information Center, which filed an amicus brief in the case arguing for the warrant requirement.
The New Jersey decision comes just weeks after Montana legislators passed a statute requiring police to get a warrant for cell phone location data, even as similar legislation in Maine awaits the governor's signature and the Massachusetts state legislature prepares for hearings on the issue. At the federal level, legislation—the Geolocational Privacy & Surveillance Act—was recently introduced in Congress, but neither the House nor the Senate has yet to take it seriously.
-Matt Bewig
To Learn More:
Police Need Warrants to Track Cell-Phone Data, N.J. Supreme Court Rules (by Salvador Rizzo, Newark Star-Ledger)
State v. Thomas W. Earls (N.J. Supreme Court) (pdf)
Montana becomes First State to Require Search Warrants for Cellphone Location Tracking (by Noel Brinkerhoff, AllGov)