New Budget Deal Would Stop IRS from Investigating Secret Campaign Donors
Monday, December 21, 2015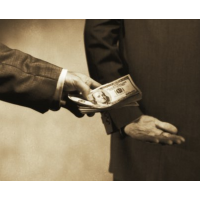 (photo: Getty Images)
The huge omnibus spending bill approved by Congress last week had something in it for just about everyone, including those who like to keep political donors a secret.
The must-pass bill had a rider attached to it by Republicans, supported by Speaker Paul Ryan (R-Wisconsin), that would forbid the Internal Revenue Service (IRS) from spending any money to try to define how much 501(c)(4) advocacy groups may spend on political campaigns. Such groups are supposed to be social welfare organizations but recently have been used as a conduit for promoting a political candidate while keeping the names of donors hidden from the public.
"It's outrageous that lawmakers are interfering with the most modest measures to increase disclosure of political spending," Lisa Gilbert, who directs the watchdog group Public Citizen's Congress Watch division, said in a statement, according to The Washington Post. "The American people want – and deserve – to know who is trying to buy our elections."
The IRS has been working on such regulations since 2013, when it was found to have searched for groups with "tea party" and "patriot" in their names to try to discover groups that might be abusing the law. Although the agency also sought out progressive-leaning groups, Republicans took the IRS's efforts as an attack on conservatives and have tried to restrict such efforts since.
The new budget deal also includes another Republican-supported rider designed to prevent the Securities and Exchange Commission (SEC) from moving forward with a regulation requiring disclosure of political donations by public corporations. Democrats had reportedly been urging the SEC to advance that rule.
-Steve Straehley
To Learn More:
Congress' Budget Deal Halts Political Disclosure Efforts (by Matea Gold, Washington Post)
As IRS Budget Shrinks, Fewer than 1% of Charities are Audited (by Steve Straehley, AllGov)
IRS Gave Non-Profit Tax-Exempt Status despite Record Campaign Money-Laundering Disclosure in California (by Noel Brinkerhoff, AllGov California)
Obama Administration Seeks to Limit Non-Profits' Political Activity (by Noel Brinkerhoff, AllGov California)