NASA Releases First Full Photo of Earth in 43 Years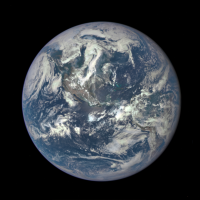 New NASA photo of Earth (photo: NASA)
Not since the United States last sent men to the moon has the National Aeronautics and Space Administration (NASA) released a complete photo of the Earth taken from deep space.
But on July 6 NASA published a full photo of the planet, taken by the Deep Space Climate Observatory (DSCOVR) using the Earth Polychromatic Imaging Camera (pdf) (EPIC) onboard. The image shows North and Central America and a portion of the Caribbean Sea.
The last time NASA released such an image was the 1972 Apollo 17 mission that captured the iconic "blue marble" image.
DSCOVR, launched in February by NASA, the National Oceanic and Atmospheric Administration (NOAA) and the U.S. Air Force, was sent out to monitor solar wind, which can cause havoc with power grids, GPS devices and other systems, in real time. EPIC will be used primarily to measure ozone and aerosol levels in the atmosphere as well as cloud height, vegetation properties and the ultraviolet reflectivity of Earth, according to Newsweek. It's in orbit about 1 million miles out between the Earth and the sun.
A Japanese spacecraft took a full photo image of the Earth in 2004 and another has been sending them back on a regular basis since early this year. And you won't have to wait another 43 years for the next set of images of the Earth from NASA. The agency says EPIC will be sending new ones back every day.
-Noel Brinkerhoff, Steve Straehley
To Learn More:
The Whole Earth: NASA Releases Its First Unstitched Image Since 1972 (by Stav Ziv, Newsweek)
Behold: NASA's First Image of the Whole Earth in Decades (by David Yanofsky, Quartz)
NASA Satellite Camera Provides "EPIC" View of Earth (National Aeronautics and Space Administration)