Members of Congress Avoid First-Ever Testimony by Pakistani Drone War Victims
Thursday, October 31, 2013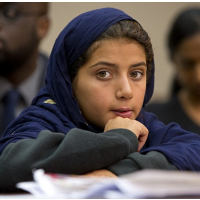 9-year-old Nabila Rehman at House of Representatives briefing (AP Photo)
For the first time since the United States began using drones to attack foreign enemies, members of Congress had the chance this week to hear directly from civilian survivors of such attacks at a special hearing.
But only five lawmakers bothered to show up.
The five representatives—all Democrats—were: Alan Grayson of Florida, John Conyers of Michigan, Jan Schakowsky of Illinois, Rush Holt of New Jersey, and Rick Nolan of Minnesota.
They heard from a Pakistani schoolteacher, Rafiq ur Rehman, and his two children, who traveled to Washington, DC, to describe the U.S. drone strike in North Waziristan on October 24, 2012, that killed Rafiq's mother, midwife Momina Bibi, and injured his two offspring.
Using a translator, the survivors talked about their experience, and how it changed their lives.
"I no longer love blue skies. In fact, I now prefer grey skies. Drones don't fly when sky is grey," Zubair ur Rehman, 13, said, adding that his leg was injured by shrapnel during the strike.
At one point in the testimony, the translator broke down in tears while relaying the family's ordeal.
Grayson invited the guests to appear before Congress, telling The Guardian that the hearing was intended "simply to get people to start to think through the implications of killing hundreds of people ordered by the president, or worse, unelected and unidentifiable bureaucrats within the Department of Defense without any declaration of war."
"Nobody has ever told me why my mother was targeted that day," Rafiq wrote in an open letter to President Barack Obama prior to the testimony. "The media reported that the attack was on a car, but there is no road alongside my mother's house. Several reported the attack was on a house. But the missiles hit a nearby field, not a house. All reported that five militants were killed. Only one person was killed–a 65-year-old grandmother of nine."
"But the United States and its citizens probably do not know this," he continued. "No one ever asked us who was killed or injured that day. Not the United States or my own government. Nobody has come to investigate nor has anyone been held accountable. Quite simply, nobody seems to care.
"Bombs create only hatred in the hearts of people. And that hatred and anger breeds more terrorism."
The family's effort to travel to the U.S. to testify made news prior to the hearing when the State Department refused to grant a visa to their lawyer, Shahzad Akbar, who has been an outspoken critic of the U.S. drone war in Pakistan.
With their attorney prevented from entering the U.S., the family was joined by Jennifer Gibson of Reprieve, a British human rights organization.
-Noel Brinkerhoff
To Learn More:
Congressional No-Show at 'Heart-Breaking' Drone Survivor Hearing (by Lauren McCauley, Common Dreams)
"She Was Exploded to Pieces" Survivors of Drone Strike in Pakistan Testify to Members of Congress (by Alex Kane, AlterNet)
Meet the One-Man Legal Machine Pursuing Justice For Pakistani Drone Strike Victims (by Humna Bhojani, AlterNet)
State Department Blocks Lawyer of U.S. Drone Strike Survivors from Testifying Before Congress (by Noel Brinkerhoff and Danny Biederman, AllGov)
Senate Debate: Are Drone Attacks Creating More Enemies than They Kill? (by Noel Brinkerhoff, AllGov)