State Department Blocks Lawyer of U.S. Drone Strike Survivors from Testifying Before Congress
Thursday, September 26, 2013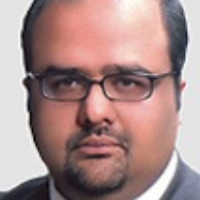 Shahzad Akbar
The Obama administration has been accused of blocking a Pakistani lawyer leading a legal fight against U.S. drone warfare from entering the United States and testifying before Congress.
Shahzad Akbar says the U.S. State Department has prevented him from receiving a visa to travel from Pakistan to Washington, DC, where he is supposed to appear before a congressional hearing to discuss American drone attacks in his country.
The State Department has granted visas to clients of Akbar's: Rafiq ur Rehman, a school teacher in Pakistan whose 67-year-old mother died in a drone strike, and two of his children who were injured in drone attacks.
But Akbar insists he must travel with his clients to serve as their translator and help them address an ad hoc meeting, which would mark the first time lawmakers have heard from survivors of such attacks.
Representative Alan Grayson (D-Florida) has asked the State Department to grant Akbar a visa to facilitate his clients' appearance before lawmakers.
"I don't know why the State Department has taken this action, but I think it's extremely important that when it comes to a national security matter like drone attacks, we hear not only from the proponents of these attacks, but also from the victims," Grayson told The Guardian.
Akbar, a legal fellow with the British human rights group Reprieve and the director of the Pakistan-based Foundation for Fundamental Rights, represents more than 150 survivors of drone attacks and their family members in a lawsuit filed against Central Intelligence Agency and government officials in Pakistan.
He says the reason for his not getting a visa is purely political on the Obama administration's part.
"It's not like my name is scratched because there is some sort of confusion. My name is blocked," Akbar told The Guardian. "Before I started drone investigations I never had an issue with US visa. In fact, I had a US diplomatic visa for two years."
Akbar began the investigations in 2011 and, since then, his visa applications have been held up three times. In April he was prevented from speaking at a Washington, D.C. human rights conference due to visa delays. During his most recent application at the U.S. Embassy in Islamabad, Akbar said that he was taken into a separate room—segregated from the area where all interviews are conducted—and questioned by American officials. The interviewer explained that he had been "flagged" due to his "history" with the U.S.
Akbar told The Guardian that he believes he has been blacklisted by a U.S. government agency because of his role in litigation against the CIA.
"We have a chronic problem in Congress that when the administration is involved in one side of the issue, we rarely hear about the other side of the issue," Grayson told the newspaper. "This is true with regard to NSA domestic spying. This is true with regard to proposed military intervention in Syria. And it's also true with regard to the drone attacks in Pakistan and in Yemen…[which is] why we invited these witnesses to come and testify."
Congress may never hear that drone attack testimony because, without Akbar, Rehman and his children are now considering forgoing their trip to the U.S.
-Noel Brinkerhoff, Danny Biederman
To Learn More:
State Department Is Keeping Pakistani Drone Victim's Lawyer Out of the Country So Survivors Won't Testify in Front of Members Of Congress (with Video and Petition) (by Don Hazen, AlterNet)
Pakistani Drone Victims' Lawyer Accuses US of Blocking his Visit to Congress (by Ryan Devereaux, The Guardian)
Senate Debate: Are Drone Attacks Creating More Enemies than They Kill? (by Noel Brinkerhoff, AllGov)