Long-term Damage to Republican Party Fundraising Seen from Trump's Self-Funded Campaign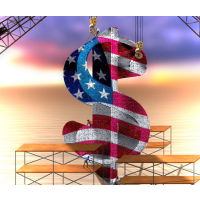 (graphic: Getty Images)
By Nick Corasaniti, New York Times
He often brags that he is paying for his campaign, saying, "I don't need anybody's money."
But Donald J. Trump's disregard for fundraising by email, building lists of small-dollar donors and assembling a modern campaign digital operation could hamstring him as a general-election candidate and do lasting damage to the Republican Party, strategists say.
In 2013 and 2014, one of the most valuable assets for Republican candidates at every level was Mitt Romney's email list, containing the names and contact information for his donors, volunteers and supporters — a trove that had been amassed, culled and refined over 18 months of the 2012 campaign.
That required painstaking work, including frequent communications with supporters in hopes of conditioning them to donate repeatedly. And it paved the way for candidates to send emails to a vast, inherited universe of potential contributors who could easily make gifts with one click.
Trump, however, has emailed no mass requests for contributions or for petition-like statements of support on various issues, as many candidates do to collect names and email addresses, aides confirmed. Rather, the front-runner for the Republican presidential nomination has passively harvested the contact information of people who choose to visit his website and donate or buy campaign-themed merchandise.
Many of his supporters, moreover, are first-time or infrequent voters or political independents who may not already show up in the email lists that Romney and other Republican list-builders have previously gathered.
To specialists in political data operations, an enormous potential reservoir of money and information is being squandered.
"This primary is an unusually intense period of actions being taken by record amounts of people in our primary contests," said Brian Stobie, a partner at Optimus, a Republican digital firm, who helped run Sen. Marco Rubio's data operation in this cycle. "Unfortunately, it looks like that activity is not being captured and archived by one of our major presidential campaigns, and that represents a missed opportunity for the party."
With Uncertainty at Top of Ticket, Republicans Back Off in Some States
By Jonathan Martin, New York Times
HOLLYWOOD, Fla. — The Republican National Committee is scaling back its financial commitments to some of the most hotly contested states because of flagging fundraising, the most concrete evidence yet of how the party's divisive and protracted presidential race is threatening the entire Republican ticket in November.
Committee officials outlined detailed plans in written "playbooks" distributed this year in the most competitive states about how they intended to assist Republican campaigns up and down the ballot with money and manpower. By July 1, Florida was to have 256 field organizers and Ohio another 176, for example, according to a state party chairman in possession of the strategy books who spoke on the condition of anonymity to discuss internal matters.
But Sean Spicer, the RNC's chief strategist, acknowledged this week that the committee had begun informing state parties and statewide campaigns that fulfilling such plans would now be "slower." He said the pledges had been made with the assumption that Republicans would have "a presumptive presidential nominee by now."
Just as revealing, the party is also taking steps to create a separate fundraising entity dedicated to Senate races, an acknowledgment that many of the wealthiest contributors are increasingly focused on protecting Republican control of Congress rather than a presidential campaign they fear is lost.
Taken together, the party's financial difficulties illustrate the considerable fallout Republicans are facing from a nominating contest that could last through mid-July and that features two leading candidates, Donald Trump and Sen. Ted Cruz, who are deeply troublesome to many leading Republican donors.
"I think everything is up in the air," said Matt Borges, chairman of the Republican Party in Ohio — which in addition to being a perennial, and perhaps the pre-eminent, swing state is also home to a competitive Senate race this year.
That sense of uncertainty, along with ample apprehension, loomed this week over the party's spring meeting here along the Atlantic coast. What is typically an organizational gathering and convivial reunion for Republican state chairmen and chairwomen and other committee members has been subsumed by an explosive presidential race in which the front-runner is waging open war against the party and its longstanding nomination rules.
More worrisome to many veteran Republicans than Trump's complaints about the delegate-selection process, though, is what his nomination could mean for the party's prospects across the board this fall. Trump has no high-dollar donor network and has given little indication that he is willing to tap into his fortune to give the party the hundreds of millions of dollars it will require to finance its campaigns in the fall.
In remarks to committee members here Thursday night, Trump's new top strategist, Paul Manafort, sought to allay these fears without being overly specific. "He is prepared to work with the RNC and the committees to raise the money necessary so that we will be well funded," Manafort said.
In the 2012 elections, the RNC raised more than $409 million. The party has raised $135 million this election, but what is deeply concerning to many Republican candidates, contributors and strategists is that it had only a little more than $16 million on hand, along with nearly $2 million in debt, at the end of March. Spicer stressed that this was partly because the committee had already begun paying to send staff members to battleground states, well ahead of the same time four years ago.
But the party's modest cash availability underscores how much hangs in the balance with its nominee.
"The minute Trump gets the nomination, the party is going to have to raise another three or four hundred million," said Al Hoffman, a Florida-based Republican donor. "Trump should pay for it himself."
Hoffman, a former RNC finance chairman, is the sort of contributor who illustrates the party's predicament. He said he had little appetite to raise money for a Trump-led party and would probably focus his efforts this year on helping a local House candidate and assisting the re-election of his friend, Sen. John McCain of Arizona. And he emphasized that he was not alone.
"All the donors I've talked to have said they want to sit out the presidential and just focus on the Senate and House," Hoffman said.
Ray Washburne, a Dallas-based Republican fundraiser who also previously served as an RNC finance chairman, said: "There's a big switch to doing the Senate races and trying to hold onto the Senate."
Washburne said Trump, who has relied on mostly small-dollar contributors in addition to about $36 million of his own money, showed no sign of being prepared for the fundraising demands of a presidential general election.
"The Trump group has done nothing about putting together a finance team at all," he said.
And Washburne would know. A former finance chairman of Gov. Chris Christie's presidential campaign, Washburne was brought backstage to meet Trump in February when Christie endorsed Trump. Washburne said Trump lavished him with praise — "he makes you feel like a million dollars" — but did not ask him for any help raising money or to connect him with other top fundraisers.
In the months since, Washburne said, he has not heard from Trump, even as donors have inquired with him, because of his ties to Christie, about how they could help Trump.
"I don't even know who the hell to tell them to call," Washburne said.
This sort of unease about Trump, along with the dislike many of the party's business-oriented donors have for the hard-line Cruz, has prompted the RNC to begin privately assuring donors that it will create a Senate Trust fund. The party will dedicate money earmarked for that fund entirely to initiatives aimed at retaining the Senate — including hiring additional field operatives and opposition researchers and bolstering digital efforts.
"We want to be able to look a donor in the eye and say, 'Yes, your dollars are going to help maintain the Senate,'" said Spicer, who confirmed the program's creation.
The idea rankled top officials at the National Republican Senatorial Committee, the party's Senate campaign arm, who said they had not been informed of the RNC's Senate plan.
The money cannot come soon enough to strategists and campaign officials in the most-contested states, many of which feature a competitive presidential race and hard-fought campaigns for Senate and governor.
The situation is particularly urgent in Florida, the largest of the traditional presidential swing states, which this year is holding a wide-open contest for Sen. Marco Rubio's seat, the outcome of which could determine control of the Senate.
The usually well-funded Florida Republican Party has encountered financial difficulties since Gov. Rick Scott's preferred candidate for state party chairman was rejected last year, making it more reliant on national assistance. What is more, the sort of get-out-the-vote efforts that are typically funded by the parties are especially crucial in Florida because many of its voters cast absentee ballots or take advantage of early voting.
"We've never not had a robust absentee and early voting program in Florida," said David Johnson, a longtime Republican strategist here.
There is similar concern in North Carolina, where what may be the country's most competitive governor's race is being fought and where Republicans who have seen private polling say Trump is trailing Hillary Clinton.
But as in other battleground states, that appears to be delayed until the national party has more clarity about its finances.
"The unspoken concern," said Borges, the Ohio chairman, "but what we're all looking at, is if Donald Trump secures the nomination — and I still don't think he's going to — he, No. 1, won't participate in fundraising for the party and, No. 2, donors won't want to help the party if he's the nominee."
"So that would put a real damper on fundraising in a number of ways."