Low-Paying Jobs Get Even Lower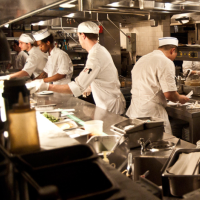 (photo: Liz Barclay)
Getting by on minimum wage or a bit more has become even more difficult, due to what some experts say is a decline in real wages for lower-paid workers.
The National Employment Law Project (NELP) reports that hourly wages on average in the United States shrunk almost 3.5% during the economic "recovery" from 2009 to 2013.
That's just the median. For many groups of workers, the drop is significantly worse. Restaurant cooks, for instance, have experienced an 8.3% fall. For food preparation workers, it's been 6.3%; for personal care aides, 6.3%; and for maids and housekeepers, 5.8%.
The wage decline is bad news for the economy, considering that 41% of the job growth in the country since last year has been in low-wage industries.
There are now 2.3 million more workers in this category than before the Great Recession began, "while mid-wage industries have only made up 26% and high-wage ones have made up 33%" of new jobs, Bryce Covert wrote for Think Progress.
-Noel Brinkerhoff
To Learn More:
An Unbalanced Recovery: Real Wage and Job Growth Trends (National Employment Law Project) (pdf)
Low-Paid Jobs Now Pay Even Worse Than Before The Recovery Began (by Bryce Covert, Think Progress)
The So-Called Economic Recovery has Meant Replacing Good Jobs with Lower-Wage Ones (by Noel Brinkerhoff, AllGov)
Minimum Wage, Factoring for Inflation, is Lower than in 1956 (by Noel Brinkerhoff, AllGov)