Labor Board Rules McDonald's May Be Joint Employer of Its Franchise Operations and Liable for Labor Violations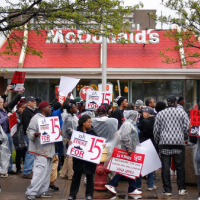 Fair wage demonstrators at a McDonald's in Detroit (photo: Paul Sancya, AP)
The nation's most famous fast-food chain may now become infamous for being held responsible for the operations of its franchises and even liable for labor violations involving minimum-wage workers.
McDonald's found itself on the losing end of a ruling by the National Labor Relations Board (NLRB), whose legal counsel rejected the company's—not to mention the industry's—longstanding defense that individual franchise owners are at fault for any legal or labor troubles, not the parent corporation.
The NLRB decided that McDonald's is a "joint employer," making it at least partially responsible for rectifying (and paying the price for) any unfair labor practices at individual restaurants.
The board's decision was based on the fact that McDonald's franchise owners must adhere to McDonald's regulations governing employment policy, food and cleanliness. Also found to carry weight was the fact that the physical restaurants used by the franchises are often owned by McDonald's.
The NLRB's top lawyer, Richard Griffin Jr., also said there was some truth in 43 of the 181 labor claims filed against McDonald's restaurants of illegally terminating, threatening or penalizing workers for trying to unionize.
Observers said the ruling could make it easier for workers to organize and form their own union.
"At some point," Fast Food Forward organizing director Kendall Fells told the media, "McDonald's and the industry as a whole will decide that it makes sense to sit at the table with these workers, because the workers have now changed the power dynamic between them and the actual corporations."
McDonald's as well as other businesses were appalled by the NLRB's decision, calling it an overreach. Some outside the industry feared the precedent could be applied to other industries that have franchises.
-Noel Brinkerhoff
To Learn More:
McDonald's Ruling Could Open Door for Unions (by Steven Greenhouse, New York Times)
In Federal Labor Disputes, McDonald's Just Became the Boss of Its Franchise Workers (by Josh Eidelson, Bloomberg BusinessWeek)
McDonald's Could Be Liable for Labor Practices (by Candice Choi, Associated Press)
McDonald's Ruling Sets Ominous Tone for Franchisers (by Julie Jargon, Wall Street Journal)
Big Fast-Food Chains Pay So Little, Employees Use Billions in Welfare Benefits (by Noel Brinkerhoff, AllGov)
No Overtime Pay for McDonald's Workers on Christmas Day (by Noel Brinkerhoff, AllGov)