L.A. Times Sues Pentagon for Info on Sputtering $40-Billion Missile System
Tuesday, January 20, 2015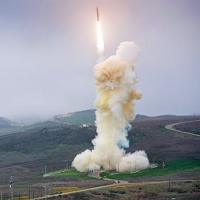 Test launch of Ground-based Midcourse Defense (photo: Boeing)
The U.S. Department of Defense (DOD) has spent at least $40 billion on a controversial anti-missile defense system—aimed at thwarting rogue states like North Korea and Iran—which has, so far, registered a test success-rate of less than 50%.
Los Angeles Times reporter David Willman has written in the past about a quick deployment of the Ground-based Midcourse Defense System (GMD), without the usual testing regimen, after President George W. Bush ordered it up in 2002. The expensive remnant of President Reagan's failed Star Wars system, which has been operational since 2004, has come under close scrutiny as its test record continues to decline.
Willman, who told C-SPAN last July that the real cost of the system is probably double the published figure when you factor in incidentals like radar, asked the Pentagon for details on incentives and bonuses being paid to contractors like Boeing, Raytheon, Northrop Grumman and Orbital Sciences.
They said "no." The requested documents contained sensitive trade secrets and privileged financial information. So last week, after waiting out a statutory three-month appeal period, Willman and the Times sued to get them.
The lawsuit states: "Despite numerous failures during testing, and prior disclosures of similar information to news organizations, DOD has withheld from taxpayers—and the Times—information showing the large sums in bonuses that DOD paid to contractors."
GMD is administered by the Missile Defense Agency and executed by the U.S. Army with support from the Air Force. The system's three-stage rocket travels beyond the atmosphere into space at more than 14,000 miles per hour. It intercepts the target warhead in space head on, without an explosive, in a "bullet-to-bullet" collision.
Except when it doesn't. So far, the missile is eight for 17 at shooting down its target, despite, according to the lawsuit, the Pentagon staging "carefully choreographed tests that are more predictable and less challenging than an actual attack would be."
Four ground-based interceptors are in silos at Vandenberg Air Force Base and 26 are at Fort Greely, Alaska. The Obama administration announced it will put another 14 at Fort Greely by 2017.
The missile system would in no way be equipped to thwart a super-power attack, which would rain hundreds, if not thousands, of missiles down on the U.S. We have our own vast array of nuclear missiles and the doctrine of Mutually Assured Destruction (MAD) for that.
–Ken Broder
To Learn More:
LA Times Demands Info on $40B Defense System (by Matt Reynolds, Courthouse News Service)
Missile System; Paper Sues to Find Out How, Why (by Patricia Guadalupe, Sputnik News)
$40-Billion Missile Defense System Proves Unreliable (by David Willman, Los Angeles Times)
Another Missile Defense Test, Another Failure (by Matt Bewig, AllGov)
Los Angeles Times Communications LLC et al v. United States Department of Defense (U.S. District Court Central District of California)