Kansas Succeeds in Driving Teachers to Retire or Leave State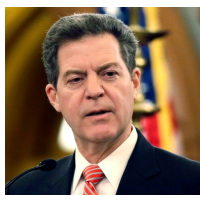 Kansas Gov. Sam Brownback has led charge to cut school funding (photo: Orlin Wagner, AP)
Conservative policies in Kansas have made the state unfriendly to teachers, causing the loss of thousands from classrooms just this year.
More than 3,700 teachers have left the state, retired or taken jobs outside of education since the past school year ended, the Associated Press has reported. It's "a huge jump from the 2,150 who did so just a couple of years ago," the AP's Roxana Hegeman wrote using data from the Kansas State Department of Education.
The exodus of instructors has been blamed on education spending cuts, including low teacher pay. The Republican-dominated legislature's attempts to do away with tenure, undermine teachers' unions and even to pass a law that would have allowed teachers to be criminally prosecuted for presenting material deemed harmful to minors have also been cited as reasons why teachers are leaving.
"Instead of funding our schools, (lawmakers) are vilifying our teachers," Mark Farr, a high school science teacher now serving as president of the Kansas National Education Association, told the AP.
Kansas Governor Sam Brownback (R) has led a charge to cut taxes and school funding. Earlier this year, that state's Supreme Court ruled that the funding disparities between school districts were too wide.
A school district in neighboring Missouri is trying to take advantage of the situation. The Independence School District has paid for billboards in Kansas advertising job openings that have come as a result of increased spending on schools there.
To fill those open positions, the Kansas State Board of Education voted Tuesday to allow some school districts to hire unlicensed teachers as a way to resolve teacher shortages.
The six "innovative" school districts will be able to issue one-year special certificates to non-certified teachers when they're unable to fill jobs otherwise. The applicants are required to hold a college degree or professional certification in the subject to be taught.
-Noel Brinkerhoff, Steve Straehley
To Learn More:
More Kansas Teachers Leaving State, Retiring (by Roxana Hegeman, Associated Press)
Kansas Board To Vote on Unlicensed-Teacher Idea (by Suzanne Perez Tobias, Wichita Eagle)
Kansas Board of Education Approves Teacher Licensing Change (by Bryan Lowry, Wichita Eagle.
Parents and Teachers May Legally Spank Kids Hard Enough to Bruise, if Kansas Bill Becomes Law (by Danny Biederman and Noel Brinkerhoff, AllGov)
Insurance Company Refuses to Insure Schools with Armed Employees (by Matt Bewig, AllGov)
Kansas Supreme Court Declares State Government's Funding of Education Unequal and Unconstitutional (by Steve Straehley, AllGov)