Kansas Supreme Court Declares State Government's Funding of Education Unequal and Unconstitutional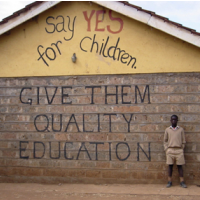 (photo: Wide Angle, PBS)
In 1954, the U.S. Supreme Court ruled against a Kansas school board, saying its practice of separate school facilities for black and white children was "inherently unequal." Now, the Kansas Supreme Court has ruled unanimously that the state's method for funding schools created too many disparities between districts and must be modified.
The state had cut payments to less-wealthy districts during the recent recession. Restoring that money will be difficult, thanks to massive tax cuts enacted by the state's Republican governor, Sam Brownback, and its legislature.
The court's ruling affirmed a district court decision that said the state's school funding process created unconstitutional disparities in payments to districts and that the state withheld capital outlay payments and reduced supplemental local-option budget aid that districts that received less property tax revenue should have gotten. However, the higher court did reverse some of the lower court's decision saying that it relied exclusively on education cost studies. The higher court ruling said they should have focused on whether Kansas' system was "reasonably calculated" to have all students meet or exceed minimum educational standards.
"More than 20 judges over the past 20 years have consistently ruled that the state is shortchanging the kids of Kansas," John Robb, general counsel for plaintiff Schools for Fair Funding, told the Topeka Capital-Journal. "It is again time for the Legislature to do what the constitution requires and restore funding to the schools." Robb said about $129 million would have to be spent statewide in order to comply with the decision.
However, the court did not set a figure that the state must spend to comply, which Gov. Brownback saw as a partial victory. "It says schools should be measured by performance and outcomes, not by just money spent," Brownback said at a press conference. "It focuses on equity—that a child in the poorer part of the state should have an equal opportunity at an education as someone from the richer part of the state, and I agree."
Brownback and the legislature have put into motion tax cuts that will cut the state's revenue by $3.9 billion over the next six years.
-Steve Straehley
To Learn More:
Supreme Court: Kansas Funding Unconstitutional on 'Equity' Grounds (by Tim Carpenter, Topeka Capital-Journal)
Court Orders Kansas Legislature to Spend More on Schools (by Trevor Graff and John Eligon, New York Times)
Luke Gannon v. State of Kansas (Supreme Court of the State of Kansas) (pdf)