Iran Claims to Have Successfully Duplicated a U.S. Military Drone
Wednesday, November 12, 2014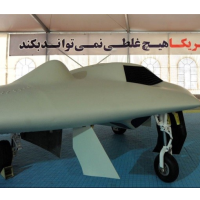 Iranian government photo of its new drone
U.S. drone technology is now in the hands of Iran, which claims to have reverse-engineered an unmanned aerial vehicle (UAV).
In December 2011, the Iranian military captured a Lockheed Martin RQ-170 Sentinel UAV after it strayed into Iran's airspace from Afghanistan. Iran claimed they'd hacked into the drone's electronic system, allowing them to take control and divert it to their country.
Engineers took the Sentinel apart and figured out how it works, Iranian media reported. Having a working model allowed them to build their own version of the drone.
Iran had previously captured lesser drones made in the U.S., like the ScanEagle produced by Boeing and the Textron RQ-7 Shadow. The country now makes its own versions of these UAVs.
"However, while both the ScanEagle and Shadow incorporate relatively simple technology that isn't too difficult to replicate, the RQ-170 supposedly represents the cutting edge of U.S. stealth technology and so would present a far more difficult challenge," IHS Jane's Defence Weekly reported.
Previous efforts by Iran to produce stealth aircraft have failed, according to Jane's. Right now, the country isn't thought to have the technical ability to duplicate that kind of technology.
More likely, Iran has been able to reproduce items such as the craft's flight management computer, control surfaces and aerodynamics to come up with a "superficial copy" of the Sentinel, minus its stealth and payload-carrying capabilities.
The United States is working on drones, such as the RQ-180, that are far more advanced than the craft captured by Iran.
-Noel Brinkerhoff, Steve Straehley
To Learn More:
Iran Claims to Have Flown Reverse-Engineered U.S. Stealth UAV (by Gareth Jennings, IHS Jane's Defence Weekly)
Iran Has Flown Its Version of the Captured U.S. Stealthy RQ-170 Drone Modified To Bomb U.S. Navy Warships (by David Cenciotti, The Aviationist)
Iran–U.S. RQ-170 Incident (Wikipedia)