Justice Dept. Mistakes Slapping Wall Street Wrists for True Punishment for Fraud
Monday, February 25, 2013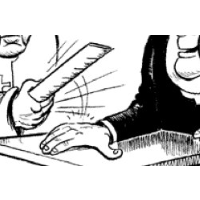 (graphic: stateofsearch.com)
Stung by criticism that it has given Wall Street a "Get out of Jail Free Card" despite its role in causing the 2008 financial crisis and subsequent Great Recession, the Justice Department (DOJ) is talking tough about what it calls a new model for going after Wall Street fraudsters. Instead of settling for consent agreements and fines, DOJ claims it is now insisting on actual guilty pleas to felony charges. But critics remain skeptical, particularly because there is no indication that corporate executives will be held responsible for the crimes committed by the businesses they run. Matt Taibbi of Rolling Stone called the new model "beyond laughable."
The new approach, which surfaced in recent settlements with UBS and the Royal Bank of Scotland for their roles in the LIBOR rate-fixing fraud, involved demanding that their Japanese subsidiaries plead guilty to felony wire fraud. Now, prosecutors are said to be setting their sights on the Japanese subsidiaries of Citigroup, Deutsche Bank and JPMorgan Chase.
"This Department of Justice will continue to hold financial institutions that break the law criminally responsible," claimed Lanny A. Breuer, head of DOJ's criminal division.
Critics retort, however, that none of the corporate parent companies involved in LIBOR pleaded guilty, nor did any of their executives. Even the impact on the Japanese units was softened, as Japanese authorities assured UBS that they would not de-license its subsidiary. While the plea has depressed its stock price, the subsidiary is operating normally and clients remain.
"Extracting a guilty plea from a wholly-owned subsidiary finally enables the Justice Department to look tough on financial institutions while sparing them from the corporate death penalty," observed Evan T. Barr, an ex-prosecutor who now defends white-collar criminal cases at the law firm Steptoe & Johnson.
Barr's reference to the corporate death penalty is telling, because the claim that job losses would follow strict enforcement of the law is one that DOJ officials themselves have cited in defending their lenient approach to Wall Street fraud.
As Taibbi has pointed out however, protecting jobs at fraudster firms may seem like a good idea in the short run, but "the long-term job losses are going to be much greater when investors around the world lose confidence in the U.S. financial system because they recognize that individuals do not face punishment for criminal activity."
This type of what economists call "moral hazard," arises when an individual has no incentive to obey the law because he or she faces no risk of punishment, while others will actually bear the consequences of the law-breaking. That is what happened in 2008, and even under the DOJ's new strategy, "the individual incentive not to commit crime on Wall Street now is almost zero."
-Matt Bewig
To Learn More:
Prosecutors, Shifting Strategy, Build New Wall Street Cases (by Ben Protess, New York Times)
Justice Department's New Get-Tough Policy Is, Well, Not (by Matt Taibbi, Rolling Stone)
Justice Dept. Defends Not Prosecuting Corporate Leaders for White-Collar Crime (by Noel Brinkerhoff and David Wallechinsky, AllGov)
Why No Prison for Banksters Who Caused Financial Crisis…Yet? (by David Wallechinsky and Noel Brinkerhoff, AllGov)