Health Insurance Deductibles Double in less than a Decade
Friday, September 25, 2015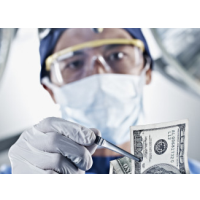 (photo: Getty)
American workers are paying considerably higher deductibles on their health insurance this decade, with some increases doubling in size.
A report from the Kaiser Family Foundation found the yearly average of deductibles for individual plans went from $900 in 2010 to more than $1,300 in 2015. The average deductible for small business employees is higher: $1,800 per year. The foundation said about 20% of all workers are paying deductibles of $2,000 or more—more than double the average cost five years ago.
The increases in deductibles have also outpaced increases in wages over the last five years, according to The New York Times. "Deductibles have risen more than six times faster than workers' earnings since 2010," the Times' Reed Abelson wrote.
Deductibles also have become more common for employees, with about 80% of workers now being forced to pay them as part of their health insurance through employers.
"Asking employees to cover more of their medical bills through high deductibles raises questions about whether some workers, especially those with expensive, chronic conditions, are being discouraged from seeking the care they need," wrote Abelson.
-Noel Brinkerhoff
To Learn More:
2015 Employer Health Benefits Survey (Henry J. Kaiser Family Foundation)
Health Insurance Deductibles Outpacing Wage Increases, Study Finds (by Reed Abelson, New York Times)
Healthcare Skin in the Game: Our Skin, Their Game, the Case against High-Deductible Plans (by Steve Straehley, AllGov)