Guantánamo Detainee Requires Rectal Surgery Following CIA Sodomy Torture
Saturday, October 15, 2016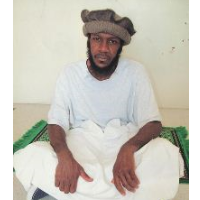 Mustafa Ahmad al-Hawsawi (photo: Wikimedia Commons)
By Britain Eakin, Courthouse News Service
GUANTANAMO BAY NAVAL BASE, Cuba (CN) — Spreading molasses on the crawl to trial for accused 9/11 plotters, an attorney for one of the five said his client was sodomized 10 years ago by the CIA and will undergo surgery Friday to treat lingering injuries from that torture.
"They used the largest objects that they could," defense attorney Walter Ruiz told reporters Monday, the night before the 9/11 capital case resumes at the Guantanamo Bay war court.
The announcement about Saudi detainee Mustafa Ahmad al-Hawsawi came just days after The New York Times published an in-depth report on persistent mental health problems among captives at the Guantanamo Bay prison camp and the 39 people held at the CIA's secret black sites. At least half of them have experienced psychiatric problems, the report said.
Al-Hawsawi was among those subjected to the CIA's enhanced-interrogation techniques.
Pakistani authorities arrested the man in Pakistan in 2003, and then rendered him to CIA custody. He is charged with facilitating money and clothing for the 9/11 hijackers.
During al-Hawsawi's time in CIA custody from 2003 to 2006, Ruiz said, the detainee suffered injuries from rectal penetration performed without evidence of medical necessity.
"To this day Mr. al-Hawsawi continues to have to choose between defecating and eating because whenever he has bowel movements he has to reinsert parts of his anus back into his anal cavity," Ruiz said.
Al-Hawsawi's torture features prominently in the declassified Senate Intelligence Committee report on CIA torture, which describes harsh treatment and its medical impact on al-Hawsawi in a footnote.
"CIA leadership, including General Counsel Scott Muller and DDO James Pavitt, was also alerted to allegations that rectal exams were conducted with 'excessive force' on two detainees at DETENTION SITE COBALT," the report states. "CIA attorney [redacted] was asked to follow up, although CIA records do not indicate any resolution of the inquiry."
The report cites CIA records as saying al-Hawsawi was "diagnosed with chronic hemorrhoids, an anal fissure, and symptomatic rectal prolapsed."
Ruiz said injuries from being sodomized causes his client to soil himself in blood and feces, accompanied by excruciating pain.
Transportation to the war court from the detention center for pre-trial hearings is particularly tough for al-Hawsawi. He tries to manage the pain by using a pillow, Ruiz said.
Prosecutors alerted Ruiz on Monday that his client will be having surgery Friday evening. Prior to this, the government had only given al-Hawsawi a topical cream that provides some lubrication to help reinsert his prolapsed anal cavity, Ruiz added.
Adm. Kurt Tidd, commander of U.S. Southern Command, deflected a question about whether the United States has plans to treat torture victims.
"I think we've said all along that torture does not take place here at Guantanamo Bay, no," Tidd said at a press conference earlier Monday.
Tidd stressed that detainees receive quality medical care.
"The medical facilities that are provided for detainees is state of the art, quality - it's the same level of medical care that's provided to our men and women in uniform," he added.
Later on Monday, Guantanamo Chief Prosecutor Gen. Mark Martins declined to comment directly on al-Hawsawi's upcoming surgery. Martins confirmed that an attorney learning about his client's surgery from prosecutors is normal at the war court.
"The prosecution under the military commissions system represents the government in litigation," Martins told reporters at a press conference. "We are often the default means by which the defense learn things. That's our job."
Ruiz said he has not received information about how long al-Hawsawi's recuperation will take or the likelihood of the surgery's success. He did not know what type of procedure al-Hawsawi will undergo, but described what he believes will take place.
A surgeon will cut out parts of the prisoner's anus and try to sew it back together to stop the continual prolapse of his anal cavity, Ruiz said. The attorney noted that he is hopeful the procedure will take place as scheduled and will be successful.
"It's been a long and hard journey to get the government to bring accountability to Mr. al-Hawsawi's treatment and to remedy the remnants of that torture," he said.
Other ailments stemming from torture that still plague al-Hawsawi include cervical degeneration in his neck, the attorney noted.
Ruiz said there is little sympathy for a man accused of committing the greatest act of terror carried out on U.S. soil, something which he said he believes factored into the delay of treating al-Hawsawi's medical conditions.
Despite ongoing public conversations about torture and whether to revive it, as Republican presidential nominee Donald Trump has promised to do, Ruiz says the law is indisputable.
"As it stands now, the law is very clear," Ruiz said. "It's simply, you are not allowed to torture under any circumstances. And if you do torture then you have a duty to rehabilitate the victims of torture."
To Learn More:
Lawyers for 9/11 Defendants Criticize Military's Selective Release of Torture-Related Documents (by Lacey Johnson, Reuters)
New Republican Senate Intelligence Chairman Wants to Bury CIA Torture Reports (by Noel Brinkerhoff and Steve Straehley, AllGov)
Rectal Feeding, Chaining Diapered Detainees to the Ceiling, Torture of 26 Wrongly Imprisoned…Is This What Americans Do? (by Noel Brinkerhoff, AllGov)
9/11 Suspects Can't Mention being Tortured during Trial Testimony because Their Torture is Classified (by Matt Bewig, AllGov)