Group of U.S. Electors Demand Briefing from U.S. Intelligence on Russia Election Interference
Saturday, December 17, 2016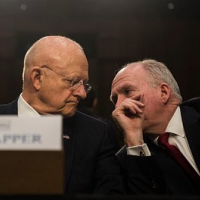 DNI James Clapper and CIA director John Brennan (photo: Gabriella Demczuk, Getty Images)
By Matt O'Brien, Associated Press
PROVIDENCE, R.I. (AP) — Weeks after Hillary Clinton lost the presidential election to Donald Trump, some of her loyal supporters have not given up hope. Clay Pell, a vocal supporter of the Democrat during her long campaign and one of the 538 members of the Electoral College, said the process has been tarnished by Russian interference. He is leading a push for electors to be given more information about it before casting their votes Monday.
Tradition holds that electors meet in their respective states and formally cast their votes without attracting much attention, but this year is "so beyond the normal bounds," said Pell, one of Rhode Island's four Democratic electors.
"We as electors have a narrow role, but nonetheless it's a role in protecting the integrity of the election," Pell said in an interview this week, noting his past work in the Obama administration as a strategic planning director for the White House National Security Council.
On Thursday, the Obama administration suggested that Russian President Vladimir Putin personally authorized the hacking of Democratic officials' email accounts in the run-up to the presidential election and said it was "fact" that such actions helped Trump's campaign. The White House also assailed Trump himself, saying he must have known of Russia's interference.
"Only Russia's senior-most officials could have authorized these activities," White House spokesman Josh Earnest said, repeating the words from an October U.S. intelligence assessment.
Pell said he began talking with electors around the country several weeks ago to gauge their thoughts about the process. Some Democrats had proposed thwarting Trump by joining Republicans in choosing a more moderate Republican alternative, such as Ohio Gov. John Kasich, but Pell called those efforts "hypothetical."
"There are really so many Trump electors. It really depends on some of the Trump electors wishing to do something different and I haven't heard or seen that," he said. "The voters of Rhode Island voted for Hillary, so that is the way I would expect to vote, and do plan to vote," he said. "If there were a real change, I'm sure people would look at that. That hasn't been the case."
An Associated Press survey of the electors found little appetite for such an insurgency. Only one of the Republicans interviewed by the AP said he would vote against the president-elect. Trump won 306 electoral votes last month, well above the 270 he needs to make him president.
Although Democrats in Pell's tiny state went for Vermont Sen. Bernie Sanders in the primary, Pell's support for Clinton, the former secretary of state, has been unwavering. Pell's wife, the Olympic gold medalist figure skater Michelle Kwan, was a prominent Clinton campaign surrogate. His grandfather, the late Democratic U.S. Sen. Claiborne Pell, is the namesake behind the federal government's college financial aid Pell Grants that Clinton promised to protect.
Pell is a lieutenant commander in the U.S. Coast Guard Reserve with his own political aspirations. He was the third-place Democratic primary candidate for Rhode Island governor in 2014, and has held several jobs in the Obama administration.
When news broke late last week of the CIA's conclusion that Russia likely sought to influence the U.S. election on behalf of Trump, Pell and nine other electors — all but one of them Democrats — quickly crafted and published an unprecedented letter to U.S. Director of National Intelligence James Clapper demanding a briefing.
Their letter, now with dozens of signatures, described the Electoral College as a deliberative body whose members have more than an "empty or formalistic task" to summarily cast their votes.
"There's been an attack on the integrity of the United States," Pell said this week. "As a person with a background in national security, I take that very seriously."
Associated Press writer Cathy Bussewitz reported from Honolulu.
To Learn More:
Russian Operation to Subvert U.S. Election Included Hacking of Democratic House Candidates (by Eric Upton and Scott Shane, New York Times
Texas Republican Quits as Elector Rather than Vote for Trump (by Bobby Cervantes, New York Times)
Nebraska Republicans Fight to Get Rid of One Democratic Electoral Vote (by Danny Biederman and Noel Brinkerhoff, AllGov)
Tightening of Voting Laws and Loss of Faith in Electoral System Anticipated from Trump's False Claims of Widespread Illegal Voting (by Joe Garofoli, San Francisco Chronicle via New York Times)
Clinton to Win Popular Vote for U.S. President, While Trump's "Rigged" Electoral College System Landed Him the Job (by Stephen Ohlemacher, Associated Press)
Hacking Threats, Voting Restrictions, and Trump's Call for Poll Monitors Generate Election Day Concerns (by Christina A. Cassidy, Associated Press)
Americans Overwhelmingly Want to End Electoral College (by David Wallechinsky and Noel Brinkerhoff, AllGov)