Tightening of Voting Laws and Loss of Faith in Electoral System Anticipated from Trump's False Claims of Widespread Illegal Voting
Tuesday, November 29, 2016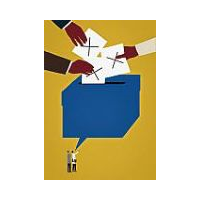 (graphic: Mark Airs, Getty Images)
By Joe Garofoli, San Francisco Chronicle via New York Times
Recounts in three battleground states are unlikely to change the outcome of the presidential race, but President-elect Donald Trump's response -- his continued allusions to a rigged voting system -- could damage confidence in the nation's democracy.
Trump could cripple faith in the electoral system by tweeting, as he did Sunday, that ``millions of people'' voted illegally despite a lack of evidence.
``I think what I can say as an objective fact is that there has been no evidence produced to substantiate a claim like that,'' White House spokesman Josh Earnest said Monday.
The recounts aimed for Wisconsin, Pennsylvania and Michigan are unlikely to do much more than raise the profile of Green Party presidential nominee Jill Stein, who is leading the effort, and swell her party's mailing list with the names of donors angry about Trump's victory, analysts said.
The concern, said civil rights attorney Kristen Clarke, is that when Trump tweets about rampant voter fraud, state and local lawmakers will respond to his tweet by crafting laws making it even tougher for all eligible voters to cast ballots.
``It's a call to arms for state lawmakers to raise efforts to make voting more difficult,'' said Clarke, president of the nonpartisan Lawyers' Committee for Civil Rights Under Law. Those laws are more likely to affect African American and Latino voters, who bear a disproportionate burden of the effects of the restrictive voter laws that have cropped up in more than a dozen states since 2013, Clarke said.
Trump's evidence-free assertions and Stein's recount initiative are just another sign that three weeks after election day, there is no closure to the divisive and toxic presidential campaign. Trump and Stein, however, have different motivations for continuing to litigate its results.
At their core level, Trump's accusations are consistent with his winning campaign, when he kept repeating that the ``system'' is ``rigged,'' including that part of the system that chooses the nation's leader.
``He is speaking to the extreme part of his support group, the group that is antigovernment, that feels that government can't be trusted,'' said Sharyn O'Halloran, professor of public affairs at Columbia University and author of ``The Future of the Voting Rights Act.'' ``He goes right to their worst fears. He motivates that core base that he tapped into that felt alienated by the traditional Democratic Party.''
Trump's offhand tweets were typical of the pointed, often-erroneous missives he fired off during his campaign. But the campaign is over, and analysts say it's dangerous that he still hasn't learned that his words -- pithy online remarks included -- pack far more importance now that he is president-elect Trump, not candidate Trump.
His contention that millions of Americans voted illegally is also a sign that Trump, who by his own admission hates to lose at anything, is looking to explain why he received 2 million fewer votes than Democrat Hillary Clinton. It's hard to contend that Trump ``just won a mandate,'' as House Speaker Paul Ryan did on election night, when he got a couple million fewer votes than his opponent. Blaming illegal votes -- even if they're nonexistent – takes the sting out of that loss.
``This is him being reactive and angry,'' said Eric Schickler, chairman of the political science department at the University of California at Berkeley. That ``he hasn't learned a lesson (from his tweets) is because he hasn't paid a price for them yet. Given that he hasn't paid a price, why should he stop? You'd think he'd stop once he became president.''
Trump's tweets are also a way to redirect the media and critics from focusing on stories like the New York Times expose Sunday on how he potentially faces serious conflicts of interests in 20 countries where he has business concerns.
Those complications ``could create a running source of controversy for Mr. Trump, as well as tensions between his priorities as president and the needs and objectives of his companies,'' the Times wrote Sunday.
For Stein, a recount won't bring victory -- she finished a distant fourth on election day and has said her interest in leading the recount effort is in preserving the integrity of the electoral system. And it's very unlikely to change the winner from Trump to Clinton: There have been 27 recounts in the 4,687 statewide general elections from 2000 to 2015, according to Fair Vote. Only three of those recounts flipped the election result.
Nevertheless, Stein's recount campaign has enabled her to do something she wasn't able to do during the campaign: raise money and get media attention for herself and her party.
Donations have poured in, including many from Clinton supporters still stunned by Trump's victory. But questions have arisen about what Stein is doing with the money and attention she is raising. As of Monday, she had raised $6.2 million to finance the recounts. More than 140,000 contributors have donated an average of $45, according to Stein's campaign website -- that's called party building.
``Raising her profile, raising money still makes her a political entity,'' said Michael Feldman, founder of the Washington, D.C., consulting firm the Glover Park Group and a former top adviser to Vice President Al Gore, himself no stranger to presidential recounts.
To the question of what happens to any money left over from the fundraising, Stein's website says any ``surplus will also go toward election integrity efforts and to promote voting system reform.'' Federal law prohibits Stein from keeping any money left over from the recount drive, but she can donate it to a political party -- like the Green Party.
There is a potential upside for voters not named Trump, Stein or Clinton coming out of the recounts. The continuing spotlight on the nation's voting systems may cause some states to upgrade their software or to adopt more stringent vote-checking systems, like those in place in California, where a small percentage of the votes are routinely hand-counted and there is a paper trail for all ballots.
And if the recounts don't find irregularities, analysts say a clean bill of health could inspire more confidence in voting. Or it could point out holes in the system that could be fixed in time for the next election. Or it could point to evidence that foreign hackers did alter vote totals.
``People should be looking into this,'' Feldman said. ``This isn't going to be the last election in this country.''
To Learn More:
Clinton to Win Popular Vote for U.S. President, While Trump's "Rigged" Electoral College System Landed Him the Job (by Stephen Ohlemacher, Associated Press)
Hacking Threats, Voting Restrictions, and Trump's Call for Poll Monitors Generate Election Day Concerns (by Christina A. Cassidy, Associated Press)
Voter Registration Systems in More Than 20 States Attacked by Hackers (by Tami Abdollah, Associated Press)
Courts Scramble to Rule on Challenges to Restrictive State Voting Laws before November Election (by Sarah Smith, ProPublica)
Should Presidential Election Day be declared a National Holiday to Facilitate Voting? (by Noel Brinkerhoff, AllGov)
Can Voting Machines be Hacked? No Problem (by Matt Bewig, AllGov)