Texas Republican Quits as Elector Rather than Vote for Trump
Wednesday, November 30, 2016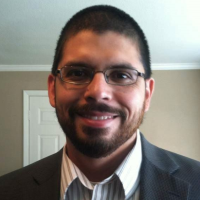 Art Sisneros (photo: A. Sisneros)
By Bobby Cervantes, New York Times
AUSTIN - A Republican member of the Electoral College from Texas said he will resign his position in the 227-year-old institution over his inability to square his faith with casting a vote for President-elect Donald Trump at the Dec. 19 meeting.
Art Sisneros of Dayton, who explained his decision in a Saturday blog entry, acknowledged that Trump will be president in January, but said casting his electoral vote for the New York businessman "would bring dishonor to God." Resigning would allow the Republican Party of Texas to fill the vacancy with someone who will vote for the president-elect, added Sisneros, who was elected at the state party convention in May.
"I do not see how Donald Trump is biblically qualified to serve in the office of the Presidency," he wrote. "Of the hundreds of angry messages that I have received, not one has made a convincing case from scripture otherwise. If Trump is not qualified and my role, both morally and historically, as an elected official is to vote my conscience, then I cannot and will not vote for Donald Trump for President."
Sisneros, who did not respond Monday to multiple requests for comment, said signing a party pledge to support Trump was tantamount to sin. "I was wrong in signing this pledge and not communicating to the body when I ran that my conscience would not be bound by it," he said. "One thing is clear, I have sinned in signing that pledge. I humbly confess that it was wrong for me to do so."
Tom Mechler, the state GOP chairman, said Texas electors will choose a new member at their meeting next month.
"We respect Mr. Sisneros' decision and appreciate his willingness to step down from his position as a presidential elector in Texas," Mechler said in a statement. "The responsibility of selecting his replacement now falls into the hands of the other electors from Texas when they assemble on December 19th, and we will continue to move forward with the process."
Trump defeated Democrat Hillary Clinton by 9 percentage points in Texas, meaning that under the state's winner-take-all system, Trump will receive the Lone Star State's 38 electoral votes. While Sisneros' decision will not change the tally, his recent public flirtation with bucking the GOP has drawn national attention as a handful of electors from other states try to organize a long-shot effort to select someone other than Trump.
While the Constitution does not prohibit, for example, Texas' electors from voting for the candidate who lost the popular vote in the state, it would be highly unusual considering electors typically are party loyalists. Each state also has wide discretion in crafting the particulars of the system within its borders, including who can be an elector and how votes are apportioned.
Alex Keyssar, a Harvard University government professor, said attention to the Electoral College often surfaces when the potential for a crisis looms.
"I think this will be an issue that has some legs now," he said of attempts to reform the system. "Obviously, Republican control of Congress will dampen it, but I think Republicans are a little short-sighted if they see the Electoral College giving them a systemic advantage where they can win with electoral votes but without the popular vote."
Keyssar pointed to the 2004 presidential race, when then-Sen. John Kerry lost the popular vote by about 3 million votes but came within one state - Ohio's 20 electoral votes - of winning the presidency.
"You hope that people would say, let's stop doing stuff that doesn't conform to basic norms and leads us to say hypocritical things," he said.
To Learn More:
Tightening of Voting Laws and Loss of Faith in Electoral System Anticipated from Trump's False Claims of Widespread Illegal Voting (by Joe Garofoli, San Francisco Chronicle via New York Times)
Clinton to Win Popular Vote for U.S. President, While Trump's "Rigged" Electoral College System Landed Him the Job (by Stephen Ohlemacher, Associated Press)
Hacking Threats, Voting Restrictions, and Trump's Call for Poll Monitors Generate Election Day Concerns (by Christina A. Cassidy, Associated Press)
Americans Overwhelmingly Want to End Electoral College (by David Wallechinsky and Noel Brinkerhoff, AllGov)
Is the Electoral College Distorting Obama Policy? (by Noel Brinkerhoff, AllGov)