Former CIA Prisoners Sue Psychologists Who Created Torture Program
Thursday, October 15, 2015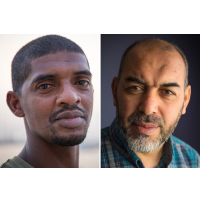 Suleiman Abdullah Salim and Mohamed Ahmed Ben Soud (photos: ACLU)
The psychologists who designed the Central Intelligence Agency's (CIA) torture program are now being sued by some of its survivors.
Psychologists James Mitchell and Bruce Jessen were named as defendants in a federal lawsuit filed by the American Civil Liberties Union (ACLU) on behalf of Suleiman Abdullah Salim and Mohamed Ahmed Ben Soud, as well as a representative of the estate of Gul Rahman. The plaintiffs seek compensatory damages of at least $75,000, according to The Guardian.
The former terror suspects said they were subjected to mock drowning, painful bodily contortions, and sleep and dietary deprivation. Rahman froze to death in a CIA black site in Afghanistan.
Other tortures inflicted on the plaintiffs include prolonged exposure to music played at painful volume; being chained in painful stress positions; being hung from a ceiling so that their toes barely touched the ground for hours on end; and being forced into "confinement boxes," one the size of a coffin and the other just two and a half feet square and 21 inches deep."
Salim tried to kill himself after being tortured, while Ben Soud was kept naked for more than a month and waterboarded.
"This case is about ensuring that the people behind the torture program are held accountable so history doesn't repeat itself," Steven Watt, one of the ACLU attorneys representing the three ex-detainees, told The Guardian.
Watt added that this "lawsuit is different from past ones because public government documents now provide exhaustive details on the CIA torture program, and they identify the people who were tortured and how it happened. The government has long abused the 'state secrets' privilege to prevent accountability for torture but at this stage, any claim that the torture of our clients is a state secret would be absurd."
From 2001 to 2005, Mitchell made $1.5 million and Jessen $1.1 million, courtesy of American taxpayers, for their efforts, according to the ACLU.
-Noel Brinkerhoff
To Learn More:
CIA Torture Survivors Sue Psychologists Who Designed Infamous Program (by Spencer Ackerman, The Guardian)
Former CIA Prisoners Sue Architects of Torture Program (by Adam Klasfeld, Courthouse News Service)
Out of the Darkness (American Civil Liberties Union)
Suleiman Abdullah Salim, et al, v. James Elmer Mitchell and John "Bruce Jessen (U.S. District Court for the Eastern District of Washington) (pdf)
CIA Paid $81 Million to Hire Psychologists to Teach Torture Techniques (by Noel Brinkerhoff, AllGov)
American Psychological Association Refuses to Charge Member Who Committed Torture at Guantánamo (by Noel Brinkerhoff and Danny Biederman)