CIA Paid $81 Million to Hire Psychologists to Teach Torture Techniques
Thursday, December 11, 2014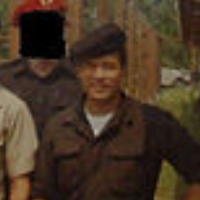 Bruce Jessen at SERE training camp, Fort Bragg, 1989 (photo: Wikipedia)
Helping the Central Intelligence Agency (CIA) brutalize detainees in the hopes of getting useful intelligence from them was financially rewarding for two psychologists.
According to NBC News and the Senate Select Committee on Intelligence report on the CIA's interrogation program, the office of Mitchell, Jessen & Associates in Washington was paid $81 million for their part in the enhanced interrogation techniques used on dozens of individuals. Dr. John "Bruce" Jessen and Dr. James Mitchell, both former U.S. Air Force psychologists, were identified by NBC News as the leaders of the firm.
They actually stood to make $180 million under their deal with the CIA, but it was canceled at the beginning of the Obama administration. Another part of the deal was that Jessen and Mitchell got to evaluate their own work. Not surprisingly, they gave themselves top marks.
The Senate report revealed that neither man had "specialized knowledge of al Qaeda, a background in counterterrorism or any relevant cultural or linguistic experience" when they were hired by the agency.
Jessen was a specialist in the military's Survival, Evasion, Resistance Escape training program designed to help soldiers endure torture by foreign captors. The firm he and Mitchell founded only came about after they started talking to the CIA about leaving the Pentagon and going into business for themselves.
Nonetheless, they helped the CIA develop 20 methods of torture to use on suspected terrorists. That list was cut to 10 after some of the procedures were deemed too severe.
-Noel Brinkerhoff
To Learn More:
CIA Paid Torture Teachers More Than $80 Million (by Robert Windrem, NBC News)
Report Portrays a Broken CIA Devoted to a Failed Approach (by Scott Shane, New York Times)
American Psychological Association Refuses to Charge Member Who Committed Torture at Guantánamo (by Noel Brinkerhoff and Danny Biederman, AllGov)