First U.S. Soldier Honored by Israel for Saving Jews During World War II
Sunday, December 13, 2015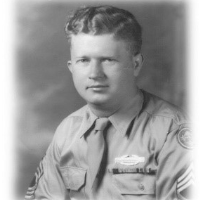 Master Sgt. Roddie Edmonds (photo: Yad Vashem via AP)
A U.S. soldier captured during the Battle of the Bulge in 1944 has been honored by Israel for standing up to Germans in a prisoner-of-war camp and saving the Jews among his fellow prisoners.
The highest-ranking noncommissioned American officer at the Stalag IXA camp, Master Sgt. Roddie Edmonds was ordered by the Germans running the camp to identify the Jews within his ranks. Edmonds refused. Standing before more than 1,000 Jewish and non-Jewish American POWs, Edmonds told their captors, "We are all Jews here!"
Even after Germans put a gun to Edmonds' head, he refused to comply, telling those running the camp they would have to shoot all the prisoners and that they'd be charged with war crimes after the fighting was over. The Germans backed down.
For his actions, Israel awarded Edmonds, who died in 1985, its Righteous Among The Nations declaration, the country's highest honor for non-Jews who worked to protect Jews during World War II. Others so honored were Oskar Schindler and Raoul Wallenberg, but Edmonds is only the fourth American and first soldier to receive the honor.
"Master Sgt. Roddie Edmonds seemed like an ordinary American soldier, but he had an extraordinary sense of responsibility and dedication to his fellow human beings," Avner Shalev, chairman of the Yad Vashem Holocaust museum and memorial, told the Associated Press. "The choices and actions of Master Sgt. Edmonds set an example for his fellow American soldiers as they stood united against the barbaric evil of the Nazis."
A ceremony is being planned for next year. And the Israeli honor might not be the only one to be bestowed upon Edmonds. In the United States, he's now being considered for the Medal of Honor, the nation's highest award that can be bestowed on a combat soldier.
-Steve Straehley
To Learn More:
Late WWII U.S. Veteran is 1st Soldier Honored for Saving Jews (by Aron Heller, Associated Press)
U.S. Soldier Honored for Brave Refusal to Hand Jewish POWs under His Command to the Nazis: 'We Are All Jews' (by Sharona Schwartz, The Blaze)
70 Years Later, France, under U.S. Pressure, Agrees to Compensate Jews Transported to Nazi Death Camps by French Railway (by Steve Straehley, AllGov)
German Railway Hires Lawyers and PR Firm before Holocaust Lawsuits in U.S. (by Matt Bewig, AllGov)