70 Years Later, France, under U.S. Pressure, Agrees to Compensate Jews Transported to Nazi Death Camps by French Railway
Monday, December 08, 2014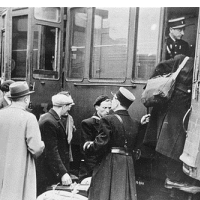 Foreign-born Jews deported from Paris
It took the French national railroad 70 years—and the threat of losing lucrative U.S. contracts—to agree to compensate non-French citizens it transported to Nazi concentration camps.
France will put $60 million into a fund to be administered by the United States that will go to survivors, their spouses and their estates who were transported via SNCF railway to German death camps, according to The Wall Street Journal. The agreement covers those living in the United States, Israel and other countries that don't already have a bilateral agreement with France covering compensation for the deportations.
Between March 1942 and August 1944, SNCF transported about 76,000 Jews and others to the Nazi camps. Fewer than 3% survived.
Until now, France has claimed immunity from lawsuits brought by U.S. Holocaust survivors for its role in aiding the Nazi's attempts to wipe out European Jews. But SNCF wants to sell rail cars in the United States and some state governments have considered legislation banning the company from doing business with them until the claims are addressed.
"There is no amount of money that could ever make up for the horrific injustice done to these victims and their families," Anti-Defamation League Director Abraham Foxman said in a statement. "But agreements like this provide some modest redress, an important recognition of their pain, and acknowledge the responsibility of governments and institutions to leave no stone unturned in seeking every possible measure of justice for Holocaust victims."
Under the agreement, negotiated by former U.S. Ambassador Stuart Eizenstat, SNCF will also reissue a statement of "sorrow and regret" and pay an additional $4 million to fund Holocaust education and commemoration in the United States and in France and Israel, according to Ron Kampeas of the Jewish Telegraphic Agency.
The deal means that the U.S. government will defend France and its state-owned companies from liability related to the deportations in this country. Those paid from the fund will have to give up their right to sue France and SNCF. Survivors will get about $100,000 each, with lesser amounts going to surviving spouses and estates.
SNCF has long claimed it was merely following orders when it helped send thousands of Jews to their deaths after France's surrender to the Nazis during World War II.
-Steve Straehley
To Learn More:
France to Compensate Non-French Death Camp Deportees (by Stacy Meichtry and Felicia Schwartz, Wall Street Journal)
U.S., France Secure $60 Million for Survivors of Rail Deportations (by Ron Kampeas, Jewish Telegraphic Agency)
Coalition for Holocaust Rail Justice
German Railway Hires Lawyers and PR Firm before Holocaust Lawsuits in U.S. (by Matt Bewig, AllGov)