Executive Director of the United States Botanic Garden: Who Is Ari Novy?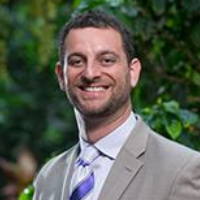 Ari Novy
Dr. Ari Novy was appointed executive director of the U.S. Botanic Garden in June 2014. He first joined the Garden in July 2012 as public programs manager, and was promoted to deputy executive director in November 2013. The Botanic Garden, located on the Capitol grounds in Washington, DC, cultivates and displays countless varieties of plants, houses endangered species, and offers educational programs on the importance of plants.
Ari Novy was born in Michigan circa 1979 to Donald R. Novy, a physician, and Marla (Gottlieb) Novy, but grew up in Hillsborough and Flemington, New Jersey. His grandfather on his mother's side owned a flower shop. "I'm sure the seed was planted for an appreciation of plants, but I never considered it as a career," he would later say. He earned a B.A. in Italian at New York University (NYU) in 2000.
Studying Italian literature in Italy as an undergrad, Novy started a gardening club at Villa La Pietra, a Renaissance villa owned by NYU in Florence, where he "fell in love with horticulture." Novy was mentored by a local gardener who encouraged him to pursue a degree.
From August to December 2002, Novy lived in Daet, Camarenes Norte, Philippines, where he researched sustainable agriculture and child labor in the southern region of Luzon Island.
From January 2004 to January 2005, Novy returned to Villa La Pietra to work as a restoration gardener.
From May 2005 to August 2006, he was an environmental specialist at Malick and Scherer, an engineering consultancy firm, in White House Station, New Jersey, where he conducted environmental inventories and impact statements for infrastructure development projects.
From June 2007 to August 2007, Novy was a visiting researcher at the Risø National Laboratory in Roskilde, Denmark, where he researched gene flow in genetically modified white clover.
From September 2008 to September 2009, he was program director of the Landscape Architecture Study Abroad program at Rutgers, where he organized and taught a course on Italian gardens and landscapes in Italy for undergraduates.
From January 2010 to December 2010, he was a graduate student fellow at the Environmental Protection Agency in Washington, DC, researching the prevalence of environmental chemical biomarkers in humans. He also helped plan a sustainability-focused garden for the U.S. Botanic Garden.
From November 2009 to June 2011, Novy was a plant biology consultant at Phytomedics Inc., in Robinsville, New Jersey, where he developed molecular marker systems to track germplasm resources in a pharmacologically active plant.
Novy earned a PhD in Plant Biology at Rutgers University in 2012. His doctoral thesis was entitled, "Evolutionary and demographic processes in the invasive weed Microstegium vimineum."
Dr. Novy remains an active researcher, holding an appointment as a research collaborator at the Smithsonian Institution, National Museum of Natural History. He has served on task forces and advisory panels, including the White House Council on Environmental Quality, the Pollinator Partnership, and the European and Mediterranean Plant Protection Organization. He is the author or co-author of such studies as "Botanic Garden Profile: The United States Botanic Garden in Washington, DC," and "Eastern Filbert Blight-resistant Hazelnuts from Russia, Ukraine, and Poland."
Ari Novy is married and currently lives in Arlington, Virginia.
-Matt Bewig
To Learn More:
Overseeing How the Garden Grows (Partnership for Public Service)
Ten Questions with Ari Novy, Executive Director of the U.S. Botanic Garden (FoodTank )
U.S. Botanic Garden's New Director is Rutgers Alumnus (by Andrea Alexander, Rutgers Today)
Leadership of the Garden Variety: Ari Novy is the New Director of the United States Botanic Garden (by David W. Major, Rutgers Today)
Academic Publications by Dr. Ari Novy (Google Scholar)