Energy Companies Contribute to Republican State Attorneys General who then Fight Pollution Regulation
Tuesday, December 09, 2014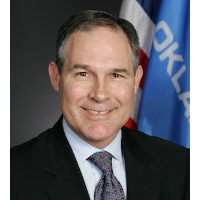 Oklahoma Attorney General Scott Pruitt
Republican politicians holding the top law enforcement job in several states have pursued anti-environmental agendas after accepting million-dollar campaign contributions from energy corporations.
An investigation by The New York Times uncovered "the unprecedented, secretive alliance" between numerous state attorneys general (AGs) and "some of the nation's top energy producers to push back against the Obama regulatory agenda." The campaign so far involves AGs in no fewer than 12 states who have pocketed at least $16 million in 2014 alone.
The effort by the energy industry comes at an opportune time for Republican AGs: "For the first time in modern American history, Republicans in January will control a majority — 27 — of attorneys general's offices," the Times' Eric Lipton reported.
The alliance troubles one former GOP attorney general. "When you use a public office, pretty shamelessly, to vouch for a private party with substantial financial interest without the disclosure of the true authorship, that is a dangerous practice," David B. Frohnmayer, who served as Oregon's attorney general for a decade, told the newspaper. "The puppeteer behind the stage is pulling strings, and you can't see. I don't like that. And when it is exposed, it makes you feel used."
Oklahoma Attorney General Scott Pruitt appears to be one of those having his strings pulled. His office copied a three-page letter from Devon Energy, which had backed Pruitt's campaign, and changed just a few words before putting it on official stationary and sending it to the U.S. Environmental Protection Agency. The letter accused the EPA of "grossly overestimating the amount of air pollution caused by energy companies drilling new natural gas wells in his state," according to Lipton.
Energy policy isn't the only thing lobbyists are trying to influence through attorneys general. Those representing pharmaceutical interests, gambling corporations, Big Tobacco and other industries have bought lavish trips and dinners for Republican AGs to have the opportunity to bend their ears.
-Noel Brinkerhoff
To Learn More:
Energy Firms in Secretive Alliance With Attorneys General (by Eric Lipton, New York Times)
Lobbyists, Bearing Gifts, Pursue Attorneys General (by Eric Lipton, New York Times)
Corporate Lobbyist Urges Energy Industry Execs to "Play Dirty" Against Environmentalists (by Noel Brinkerhoff, AllGov)
EPA Officials Accept a Million Dollars a Year in Travel Expenses from Private Companies and Nonprofits (by Noel Brinkerhoff, AllGov)