Doctors Accused of Improperly Billing Poor Americans on Medicare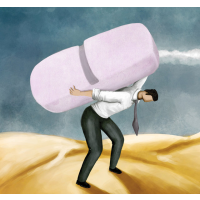 (graphic: Fanatic Studio/Collection Mix: Sub/Getty Images)
By Robert Pear, New York Times
WASHINGTON — Doctors are improperly billing poor people on Medicare for deductibles, co-payments and other costs from which they are supposed to be exempt, the Obama administration says.
Federal officials have warned doctors that they may be subject to penalties if they persist in these practices. They could be fined or excluded from Medicare.
The people who are being billed improperly are "qualified Medicare beneficiaries" who are also enrolled in Medicaid. They are 65 and older or disabled and have low incomes, generally less than $1,010 a month for an individual or $1,355 for a married couple.
Federal law says that such beneficiaries do not have "any legal liability to make payment" to a doctor or a hospital beyond the amounts paid by Medicare and Medicaid. The Obama administration recently told doctors that they "must accept the Medicare payment and Medicaid payment (if any) as payment in full for services rendered to a qualified Medicare beneficiary."
A study by the Department of Health and Human Services found that improper billing still appears to be "relatively commonplace" because "some Medicare providers unlawfully bill enrollees" after receiving payments from Medicare and Medicaid.
In some cases, the study said, beneficiaries "curtail their use of needed services due to concerns about their ability to pay."
About 7 million low-income people receive financial help through the program for qualified Medicare beneficiaries. State Medicaid agencies help pay Medicare premiums, deductibles, co-payments and coinsurance. But states do not have to pay doctors the full amount of such costs, and in some cases they pay nothing, leaving doctors with hundreds or thousands of dollars in unreimbursed expenses.
"Because of this gap in payment, many doctors and other health care providers try to bill the beneficiaries or refuse to provide services to them," said Denny W. Chan, a lawyer at Justice in Aging, a nonprofit legal advocacy organization.
To Learn More:
AMA Helps Doctors Overbill Medicare by Exaggerating Time Needed for Procedures (by Noel Brinkerhoff, AllGov)
Overbilling by Doctors and Hospitals Costs Medicare a Billion Dollars a Year (by David Wallechinsky and Noel Brinkerhoff, AllGov)