Police Departments Investigated for Civil Rights Abuses Still Get Free Military Weapons
Tuesday, September 23, 2014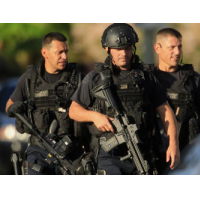 Los Angeles police officers (photo: Mark Boster, Los Angeles Times)
Caught using excessive force? Accused of violating people's civil rights? No problem, as far as the federal government is concerned when it comes to distributing free military surplus hardware to police forces around the country.
The Associated Press found multiple police forces in the U.S. that have been under court order or under investigation by federal prosecutors for going beyond the law, and still have received high-powered weapons from the Department of Defense.
The Los Angeles Police Department received more than 1,600 M16 assault rifles even though the LAPD was under the supervision of a federal monitor until just last year following accusations of excessive force, false arrests and unreasonable searches.
Warren, Ohio, reached a settlement in 2012 with the U.S. Department of Justice for excessive force and illegal searches, but is expected to receive 30 M16 rifles.
Washington, D.C.'s police department was found in 2001 to have engaged in a pattern of use of excessive force. It has received M16s, which were converted from automatic to semiautomatic fire.
The AP found that the Justice Department and the Pentagon don't communicate well with one another, resulting in police departments beefing up their arsenals despite questionable behavior on the part of some officers.
"Given the fact that they're under a consent decree it would make sense that the Department of Defense and Department of Justice coordinate on any such requests, (but) that is currently not the state," Jim Bueermann, who heads the nonprofit Police Foundation, told the AP.
A Defense Department official said at a Senate hearing earlier this month that the department would review its policies on giving weapons to departments under sanction by the Justice Department.
-Noel Brinkerhoff
To Learn More:
Feds Censure Local Police, Yet Give Lethal Weapons (by Tami Abdollah and Eric Tucker, Associated Press)
Police Muscle Up at "Urban Shield" Convention in Oakland (by Ken Broder, AllGov California)
Military Weapons Given to Police have Gone Missing (by Steve Straehley, AllGov)
The Militarization of Local Police: California Edition (by Ken Broder, AllGov California)
$4.2 Billion in Military Hardware Donations Fuels Militarization of U.S. Police Forces (by Danny Biederman and Noel Brinkerhoff, AllGov)