When Cops Lose Civil Rights Violation Judgments, They Don't Pay the Damages
Monday, December 08, 2014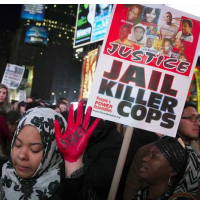 (photo: John Minchillo, AP)
Recent high-profile cases in New York City and Ferguson, Missouri, have raised the issue of lawsuits against police officers responsible for killing black men when those responsible escaped criminal responsibility. But research shows civil litigation, while often successful, rarely impacts the officers who committed the acts.
Joanna Schwartz, an assistant professor at UCLA law school, says police are "virtually always indemnified" against civil damages.
Schwartz reviewed data on police civil rights settlements from 44 large and 37 small or midsized police departments from 2006 to 2011. In 9,225 cases from large cities, officers paid only .02% of the settlements, or $171,300 out of $735 million. In the small or midsized cities, officers didn't pay any of the $9.4 million awarded to victims.
"Taxpayers almost always satisfy both compensatory and punitive damages awards entered against their sworn servants," Schwartz wrote in her paper (pdf) published by the New York University Law Review.
The New York Police Department, one of whose officers escaped indictment this week by a grand jury for the choking death of Eric Garner, is one of the few agencies that do hold their officers accountable. Thirty-four NYPD officers paid a total of $114,000 in lawsuit settlements, according to CityLab.
-Noel Brinkerhoff
To Learn More:
When Cops Violate Civil Rights, It's City Taxpayers Who Pay (by Eric Jaffe, CityLab)
Police Indemnification (by Joanna Schwartz, New York University Law Review) (pdf)
Police Departments Investigated for Civil Rights Abuses Still Get Free Military Weapons (by Noel Brinkerhoff, AllGov)