Director of the United States Secret Service: Who Is Randolph Alles?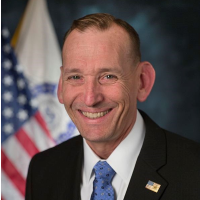 Randolph Alles
President Donald Trump's love affair with generals continued on April 25, 2017, when he appointed Randolph D. "Tex" Alles, a former Marine Corps aviator who retired in 2011 as a major general, to lead the U.S. Secret Service. Alles is the first Secret Service director in more than one hundred years who did not come from within the Secret Service ranks.
Alles is from San Antonio, Texas, graduating from MacArthur High School in 1972. He went on to Texas A&M University, where he was in the Corps of Cadets and Campus Crusade for Christ. He was commissioned a second lieutenant in the Marine Corps upon graduation with a bachelor's degree in accounting and went to flight school. Alles in 1999 earned an M.A. in national security and strategic studies at the Naval War College.
Alles flew several types of fighter and attack planes—logging more than 300 combat hours—and was an instructor at the Navy Fighter Weapons School, better known as Top Gun.
Alles was commander officer of Marine Aircraft Group 11 on January 9, 2002, when one of its planes, a KC-130 not equipped with night-vision equipment, crashed on landing in Pakistan, killing seven Marines. It was the greatest loss of life in the war to that point. The crash was later found to have been due to pilot error. The following year, after it was found that U.S. forces were using a napalm-like substance in the war in Iraq, Alles defended it, saying, "The generals love napalm. It has a big psychological effect." U.S. officials had previously denied using napalm, splitting hairs on a difference in the compound of what was used in Iraq and what was previously used in Vietnam and other conflicts. Napalm was banned in 1980, but the United States government refused to sign the international agreement.
In 2005, Alles was named commanding general at the Marine Corps Warfighting Laboratory and vice chief of naval research. He moved on in 2008 to lead the Third Marine Aircraft Wing during the Iraq War, as well as serving as commanding general of Al Asad Air Base in Iraq. The following year, Alles was made director of strategic planning and policy in the U.S. Pacific Command. In that role, he led a 2010 delegation to Chinese-U.S. maritime safety talks.
After his Marine Corps retirement, Alles moved to U.S. Customs and Border Protection in March 2012 as deputy assistant commissioner for the Office of Air and Marine Operations. The following January, Alles was made assistant commissioner leading that office. He took the air part of the job so seriously that he often wore a flight suit to work at his office. Alles had to defend the use of $18 million Predator drones, costing more than $12,000 an hour to operate, for drug interdictions when other, cheaper platforms were available. His job included attacking the marijuana trade in the Bahamas. Alles was made acting deputy commissioner of CBP upon Trump's inauguration, a post he held until taking over the Secret Service.
Alles and his wife, Sarah, have two children, Joe and Ellen.
-Steve Straehley
To Learn More:
Officials Confirm Dropping Firebombs on Iraqi Troops (by James W. Crawley, San Diego Union-Tribune)
Official Biography (Customs and Border Protection)